Családi tüzfészek (Family Nest)
(1979)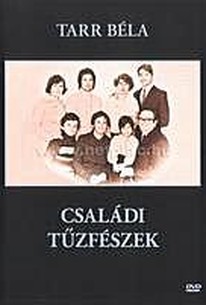 Movie Info
Shot in cinema verité style, Hungarian director Bela Tarr's drama captures the daily life of ordinary people living in desperate times. Communist-ruled Hungary is undergoing a housing shortage, forcing a seven-member family to share a tiny apartment. As the walls close in, tensions rise: A father chastises his son for not reenlisting, which might have resulted in a larger apartment, and a wife stops at nothing in order to qualify for a new home.
Critic Reviews for Családi tüzfészek (Family Nest)
Audience Reviews for Családi tüzfészek (Family Nest)
In his feature debut, Béla Tarr offers an uncomfortable look into communist Hungary using the Budapest school style of cinema verité and a camera that glides almost invisible among the non-professional actors, but it becomes a bit repetitious in the last half hour with a few redundant monologues.
Carlos Magalhães
Super Reviewer
½
It's a decent enough film, but it's more of a test run in style for a director that would go on to be an incredible force. This was back when he was still finding a voice. Using too much close up, far to little silence and an altogether loose feeling that never elevates past lots of scenes with people arguing. Not bad if you want to complete Tarr's filmography, but aside from that I wouldn't recommend it.
Michael Stuhlman
Like Almanac of Fall, it's about relationships crumbling under claustrophobic conditions, but this time in more realistic and relatable style. The verité style works well here, giving the film the feel (as the prologue indicates) that even if this exact story didn't happen to these exact people, it might as well have. The excellent acting helps too. Depressing, but riveting.
Martin Teller
Családi tüzfészek (Family Nest) Quotes
There are no approved quotes yet for this movie.