A Family Thing
(1996)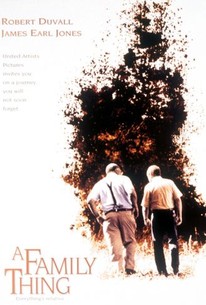 Movie Info
A middle-aged Southerner's world turns upside down after his mother's death when he learns that his real mother was the family's black maid and that he has a half-brother. After he finds his long-lost brother, most of the drama revolves around the difficult relationship between the two brothers.
Rating:
PG-13 (adult situations/language, violence)
Genre:
Directed By:
Written By:
In Theaters:
On DVD:
Runtime:
Studio:
MGM Home Entertainment
Critic Reviews for A Family Thing
Audience Reviews for A Family Thing
Robert Duvall, James Earl Jones, and irma P. Hall were pretty amazing in this. Really good little movie.
Matt Heiser
Tired of testosterone driven shoot-em-ups and brain dead comedies? A Family Thing may be just what you need. Laid back, thought provoking and full of life, this ageless story manages just the right blend of honesty and sentimentality. What's the biggest shock that an aging good ol' white boy from the deep South could expect after sixty-some years of life? How about finding out that not only is his momma not his momma, but that his real mother was black? That is the mid-life crisis that Earl Pilcher (Robert Duvall) finds himself in when his just-passed momma leaves him a revealing letter. Seems that pappa took advantage of a servant girl in his youth, who died giving birth to a fair-skinned male child. Sympathetic momma raised the boy as her own. Momma's last request is that Earl find his half-brother Raymond Lee (James Earl Jones) and get acquainted with his kin. It's a task that Earl stubbornly resists at first. He has years of social conditioning to overcome, and no idea what he could possible have to say to these folks. But something inside him longs for answers and understanding. Soon, he is off to Chicago to put the questions to bed. Older brother Raymond's greeting is less than enthusiastic. He's lived many years trying to forget the circumstances that left him without a mother or a father. Each man says his piece and the two go their own ways. But fate has other plans for Earl, who finds himself stranded in the big city. Raymond is reluctant to offer help and Earl is too self-conscious to accept, but with the help of a cantankerous old aunt, these men will work past their pride and their prejudices to unearth the meaning of family. With a different emphasis, the story could easily be one of those brainless comedies that you're trying to escape. Fortunately, everyone involved in this production had a different agenda in mind. Writers Billy Bob Thornton and Tom Epperson know their subject and their characters. Director Richard Pearce lets the story tell itself without pretentious aspirations. And it's safe to say that the leads are two of the most talented actors working today. Duvall brings his "everyman" quality to the role of Earl; delivering with a physical and emotional honesty that invokes both contempt and sympathy. James Earl Jones mixes a lightness and a humor with his imposing presence to create a character whose physical capabilities are held in check by discipline and intelligence. Their mutual journey of discovery is not all rosey; nor is it automatic. Instead, the resolution is believable and open to continued growth. Most important, their story offers a sense of hope; a measure of commonality that we often overlook in our efforts to define who we are. A Family Thing is rated PG-13 for some strong language and its racially charged theme. It's not the answer to all our problems, but it is a balanced, step in the right direction.
Troy Cullison
I think that the racial tensions in this move weren't accurately portrayed... I felt like Robert duval's character got away with a lot of stuff that I doubt he would have.
leah beck
A Family Thing Quotes
There are no approved quotes yet for this movie.
Discussion Forum
Discuss A Family Thing on our Movie forum!