Fantômas
(1964)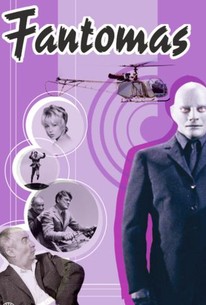 AUDIENCE SCORE
Critic Consensus: No consensus yet.
Movie Info
This movie is the first in a trilogy that parodied the popular silent Fantomas serials of director Louis Feuillade, which followed the adventures of the titular master criminal created by writers Pierre Souvestre and Marcel Allain. After a daring jewelry heist signed "Fantomas," police commissioner Juve (Louis de Funès) goes on national television claiming that Fantomas doesn't exist and that there is no reason for public concern. Riding the wave of public interest, journalist Fandor (Jean Marais) publishes a bogus interview with the master criminal. Fantomas (also played by Jean Marais) doesn't appreciate the joke and kidnaps Fandor to teach him a lesson. A master of disguise, he pulls an even more daring robbery wearing the Fandor mask. Comic relief is provided by commissioner Juve's awkward attempts to capture the elusive arch-criminal. ~ Yuri German, Rovi
Critic Reviews for Fantômas
There are no critic reviews yet for Fantômas. Keep checking Rotten Tomatoes for updates!
Audience Reviews for Fantômas
Louis de Funès played grumpy in most of his Movies but he was very funny.
France's answer to James Bond, the supervillian, and master of disguise Fantomas. The first scene Fantomas steals a bunch of jewels, by impersonating a wealthy buisness man and signing a check for them in dissapearing ink. Fantamoas(at least his film incarnation), is the type of super-villan who would do battle mainly with his intellect, and not just stabbing people in the eye with pens. Jean Marais, who I recognize from his Cocteau films, plays a reporter who writes a fake article about the theif, anarchist, and criminal King. Fantomas takes offense and kidnaps him bringing him to his Castle lair, in order to keep him out of the way while he impersonates him(he can make masks of anyones face), commiting crimes in broad daylight. Fantomas does similar for the bumbling chief of police. And eventually the reporter and the chief ae forced to join forces to bring him down. They fail, apparently as they do every Fantomas movie. Here the bad guy always wins, and not the anti-hero, the bad guy. It's an amusing little light comedy (different from the dark, apacolyptic Fantomas tales in print), with enjoyable perfomances, and an excellent 15 minute long chase sequence at the end, which goes from cars to bikes to foot to trains to helicoptors to boats to submarines! The rest of the film was so set to light comedy, the action packed end(better than anything in Terminator Salvation), was a welcome and thrilling suprise. Christopher Gans is supposed to direct the 2011 remake.
Joseph Sylvers
Fantômas Quotes
There are no approved quotes yet for this movie.
Discussion Forum
Discuss Fantômas on our Movie forum!