Far From the Madding Crowd
(1998)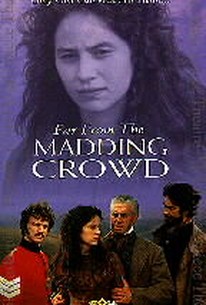 AUDIENCE SCORE
Critic Consensus: No consensus yet.
Critic Reviews for Far From the Madding Crowd
There are no critic reviews yet for Far From the Madding Crowd. Keep checking Rotten Tomatoes for updates!
Audience Reviews for Far From the Madding Crowd
½
This is an adequate rendering of the Hardy classic but Paloma Baeza lacks the internal presence necessary to make Bathsheba compelling and with that hole at the center the project is doomed to be a letdown.
½
Tagline: Three men desire her, only one can win her heart... As always I just love this movie! This is the second time I have seen it and I just love the story, the actors and the charactes they play. Far From the Madding Crowd is a novel by Thomas Hardy who wrote Tess of the D'Ubervilles. It is a story about a young girl Bathsheba (Paloma Baeza) who after refusing the proposal of Farmer Gabriel Oak (Nathaniel Parker) inheirts her uncles farm. When misfortune takes away Gabriel's farm he is forced to move on and as fate would have it finds himself employed as a shepard by Bathsheba. Although he still loves her she has the attention of two other men as well. Mr. Boldwood, the old gentleman farmer, has an unhealthy obssession for her and the devious Colonial Troy is after her beauty and her money. She is loved by three men but can only choose one. The charcaters in this movie are wonderful! I love Mr. Boldwood poping up at every turn with his shot gun to try and make Bathsheba marry her. Paloma Baeza is a very talented actress who I wish was in more than this film. Jonathan Firth (the younger brother of Colin Firth) is very convincing in his role...so much so that I couldn't help but mutter "jackass" when every he came into a scene. But Nathaniel Parker was absolutly splended! I love this man. He played the kind hearted and take action Gabriel so well that I fell in love with him even if Bathseba did not. Normally I'm not fond of beards but Nathaniel Parker with a beard is just drop dead gorgeous. I prefer him with a beard than with out one. This movie is a fun, touching movie that everyone should see. If it wasn't $30 for the VHS I would add it to my collection. [URL=http://www.lady.co.uk/articles/artimg/0110arta3.jpg]Gabriel and Bathsheba[/URL] [URL=http://www.imdb.com/gallery/hh/0662511/npimdb3.jpg?path=pgallery&path_key=Parker,%20Nathaniel&seq=11]Nathaniel with out a beard[/URL] [URL=http://uk.geocities.com/jonfirthfan/images2/farA.jpg]The whole cast[/URL]
Emily Bielewicz
Far From the Madding Crowd Quotes
There are no approved quotes yet for this movie.
Discussion Forum
Discuss Far From the Madding Crowd on our Movie forum!