Farewell to the King
(1989)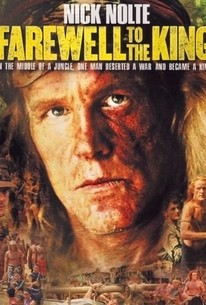 Farewell to the King Videos
Farewell to the King Photos
Movie Info
Though officially based on Pierre Schoendoerffer's novel L'Adieu au Roi, Farewell to the King also bears echoes of Conrad's Heart of Darkness and Lord Jim--with a lot of filmmaker John Milius' own Hemingwayesque slant thrown in. During World War II, American POW Learoyd (Nick Nolte) escapes a Japanese firing squad. Hiding himself in the wilds of Borneo, Learoyd is adopted by a head-hunting tribe of Nyak Indians, who consider him "divine" because of his elaborate tattoos. Before long, Learoyd is the reigning king of the Nyaks. When British soldiers approach him to rejoin the war against the Japanese, Learoyd resists (in language so flowery that it could have been written by Sir Walter Scott). But when his own tribe is threatened by the invaders, the "king" deigns to fight for their rights. Farewell to the King is breathtakingly photographed and quite exciting at times.
Critic Reviews for Farewell to the King
All Critics (11) | Top Critics (1) | Fresh (6) | Rotten (5) | DVD (2)
some over-the-top histrionics don't keep it from being worth a look

The "white man as noble savage and isn't it ironic?" material runs out of steam well before the inexhaustible Nick Nolte does.

Audience Reviews for Farewell to the King
Less sweeping than the film makers intended.Nolte's good but this film wanted to be epic but came up way short.
bill secor
This movie wants to be a more violent version of Heart of Darkness, but its more like 'Heart of Darkness' made by dummies.
Gordon Briggs
½
Odd WWII flick about desertion in the South Pacific during the gloomy days of the Allied campaign. Nick Nolte, not my favorite, is a stranded G.I. who because of his blue eyes is saved from certain death by native head hunter tribe. Is this some kind of a joke? In the last days of World War II, a British captain is parachuted into Borneo to organize resistance against the Japanese. In order to accomplish his mission, he must deal with an American who has made himself almost a God in the eyes of the local inhabitants. While a generally well made film, the plot here is a stretch. This deserter marries into this tribe of headhunters after being saved by his new wife. The question is whether he can be happy in "paradise" or return to the world he left. In the end he sides with his past and the British who seek him out. Depending on your level of movie sophistication, this one may entertain or may not. Cast Nick Nolte (the King) Nigel Havers Frank McRae Aki Aleong James Fox Marilyn Tokuda William Wise Crew Director: John Milius Producer: Andre Morgan Screenplay: John Milius Editor: Anne V. Coates Art Director: Virginia Bieneman Set Decorator : Virginia Bieneman Associate Producer: Charles Hannah Associate Producer: Gopala Krishnan Art Director: Bernard Hides Associate Producer: Ralph Marshall Production Designer: Gil Parrondo Composer: Basil Poledouris Costume Designer: David Rowe Editor: C. Timothy O'Meara Producer: Albert S. Ruddy Choreography: Anne Semler Cinematographer: Dean Semler Based on a Work by: Pierre Schoendoerffer Original Release Date: Jan 1, 1989
monsieur rick
Farewell to the King Quotes
There are no approved quotes yet for this movie.
Discussion Forum
Discuss Farewell to the King on our Movie forum!