The Farm: Life Inside Angola Prison
(1998)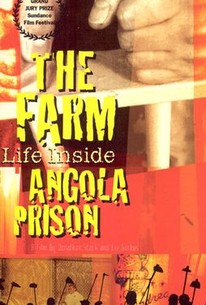 Movie Info
This documentary about life among the 5,000 inmates of America's largest maximum security prison, Louisiana State Penitentiary, was the co-winner (with Frat House) of the Documentary Grand Jury award at the 1998 Sundance Film Festival. Filmmakers Jonathan Stack and Liz Garbus worked closely with their guide, prisoner-turned-author Wilbert Rideau, the editor of a prison magazine. The film focuses on the stories of six prisoners, including nervous newcomer George Crawford; elderly Eugene "Bishop" Tannehill, who visualizes a future of eternal salvation; long-time death row inmate John Brown; and dying wife-killer Logan "Bones" Theriot, whose life was so linked to the prison that he overruled his family's wishes by choosing to be buried on the prison grounds. This film had its origins in Stack's earlier documentary, Damned in the USA, which a right-wing religious group had attempted to suppress. Joining Stack in his legal battle against the group was New York lawyer Martin Garbus, who won the case. Garbus introduced Stack to his daughter, Liz Garbus. The two teamed up, found Rideau, and then spent a year on-location, shooting in high-resolution Beta and Sony tape (transferred to 16 mm). Curtis Lundy provided the jazz score for the 93-minute film, narrated by Bernard Addison.
Rating:
NR
Genre:
,
Directed By:
In Theaters:
On DVD:
Runtime:
Studio:
Gabriel Films
Critic Reviews for The Farm: Life Inside Angola Prison
Audience Reviews for The Farm: Life Inside Angola Prison
7/11/15 Netflix A captivating look inside the infamous prison, primarily from the inmates point of view. It certainly gives you a visceral feel of what it must be like to be incarcerated and how one copes with the hope, despair, friendship and frustration within the system. When you watch this you have to remember these men are here because they either hurt or killed another person and there is punishment for that.Otherwise. This film would make it easy for you to feel pity for them.
Nick Ueber
For the most part, this is a very average documentary. However, there are a couple of things that are compelling. As far as the "documentary exposing injustice" portion of things, there's a parole hearing you want to see. It really shows the not necessarily malevolent, but totally apathetic attitude toward the prisoners. They clearly do not care about the guy trying to file additional evidence. In the "broader theme" portion of things, it was interesting to see just how comforting religion was to the prisoners who were lifers or on death row. It would have been interesting to get another viewpoint, though. The God angle is not a new one. And it leads to a slight touch of cynicism when you're talking about every life prisoner filing endless appeals. When it comes to shortcomings, there are several things I wish would have been examined more, such as the humiliating process before visits and possible grouping of prisoners into gangs or other social units. Also the pace was pretty slow. In the end, I regard this doc as slightly above average.
Jason Dennis
Within the first five minutes you're telling yourself "I've seen this stuff before on TV shows" Then the documentary starts to open up and it makes movies like Dead Man Walking seem like they could be on Lifetime. The individual stories of these men and there families is just shattering. You don't see them as criminals, just human beings living with serious regret wishing for forgiveness or some kind of redemption.
Paul Pastoor
The Farm: Life Inside Angola Prison Quotes
There are no approved quotes yet for this movie.