Farscape: The Peacekeeper Wars
(2004)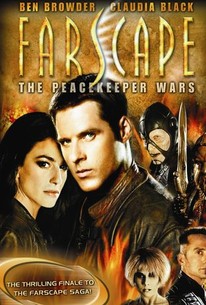 AUDIENCE SCORE
Critic Consensus: No consensus yet.
Farscape: The Peacekeeper Wars Photos
Movie Info
Part 1 of two. As the Moya crew retrieve the remains of Crichton and Aeryn (Ben Browder, Claudia Black), Scorpius (Wayne Pygram) ignites an intergalactic war between the Peacekeepers and the Scarrans. D'Argo: Anthony Simcoe. Chiana: Gigi Edgley.
Critic Reviews for Farscape: The Peacekeeper Wars
There are no critic reviews yet for Farscape: The Peacekeeper Wars. Keep checking Rotten Tomatoes for updates!
Audience Reviews for Farscape: The Peacekeeper Wars
Astronaut John Crichton, who has spent the last 4 years marooned in deep space in the company of a band of outlaw misfits, is caught in the middle of an interstellar conflict that threatens the entire galaxy. During its run, the Buck Rogers inspired Farscape regularly veered between the sublime and the ridiculous, offering a blend of adventure, comedy and colourful characters that was consistently entertaining. This miniseries was created to offer a conclusion to the story after it was cancelled, and as a result suffers from the kind of inconsistencies and compromises that were inevitable in trying to tie up four seasons worth of plot threads. It does however capture the fun of the series as we see the final showdown between the Peacekeepers and the Scarran empire and Scorpius, probably the best sci-fi villain since Darth Vader, finally persuades John to build his doomsday weapon. It offers all the same strengths and weaknesses of the TV show, including effects of variable quality, exciting space battles and firefights, some rather lame and clunky soapiness and a wealth of larger than life villains all presented with a welcome dash of tongue in cheek humour. In fact, at its best, Farscape is the TV show that has come the closest to matching the magic of the original Star Wars film. It will be completely incomprehensible to anyone who has not seen the series but in The Peacekeeper Wars, fans will find a satisfying conclusion to their beloved space opera. And its a lot better than most of the Trek films.
½
Certainly one for fans with its relentless tying of loose ends and its heavy dependence on prior knowledge of characters and background (a` la Star Trek etc ...). Cut down somewhat from the original release, it would have benefited from still more cutting as, if you're not totally in love with the characters, it can feel flabby and tedious at times in what IS a long "film". The parts that held my attention were actually good but there were not sufficient of them in relation to its running time for this to be a good film.
The Shrewlord
Super Reviewer
I loved the Farscape series. This one was great.
Barry Lappin
Super Reviewer
Farscape: The Peacekeeper Wars Quotes
There are no approved quotes yet for this movie.