Fast Sofa
(2001)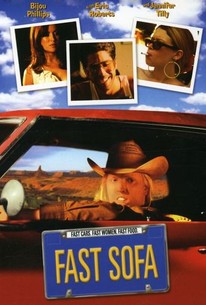 AUDIENCE SCORE
Critic Consensus: No consensus yet.
Movie Info
Based on a novel by Bruce Craven, this road picture follows a dope fiend named Rick (Jake Busey), who believes his goal in life is to track down Ginger (Jennifer Tilly), a famous porn star who is currently staying in her Beverly Hills hideaway. Rick is obsessed with Ginger, watches her movies obsessively, and deals drugs on the side, all to the chagrin of his lover, Tamara (Natasha Lyonne). He decides to seek out Ginger via the road, and along the way picks up Jules (Crispin Glover), a neurotic, virginal type. On the way to meet Ginger, he finds an unwelcome surprise in the form of Ginger's very jealous husband (Eric Roberts). Fast Sofa also features Bijou Phillips and Adam Goldberg in small supporting roles.
Critic Reviews for Fast Sofa
All Critics (3) | Fresh (0) | Rotten (3) | DVD (1)
Over-the-top characterizations, senseless motivations, choppy, dizzying, overused multi-frame editing , painful dialogue, a dropped storyline and an ambiguous ending.
A series of nonsensical vignettes strung together with even more nonsense

Audience Reviews for Fast Sofa
I sat through an hour of this dreck before I just couldn't tolerate any more Jake Busey. He's beyond obnoxious in every role, and this one is no exception. Not to mention there's really no plot, thus I shouldn't have even spent that hour on it. Definitely could not justify sitting through the entire film.
Amanda Hendsbee
½
A bid crude and it sure has some unpleasant characters, but Jennifer Tilly puts a little heart and soul into her role. Jake Busey is just unpleasant - period. Offbeat, not always involving, but there are occasional sparks.
James Higgins
½
This movie was extreme. The turmoil of running from responsibilities, drives the main character to desperate measures. You feel for him, and his new found buddy as the story continues. The end might shake you up a bit hard. The quality of this film held it back! Porn is involved, but not the basis of the movie.
Donibscott@ctcis.net Donibscott@ctcis.net
Fast Sofa Quotes
There are no approved quotes yet for this movie.
Discussion Forum
Discuss Fast Sofa on our Movie forum!