The Fastest Gun Alive
(1956)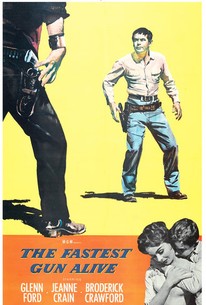 AUDIENCE SCORE
Critic Consensus: No consensus yet.
The Fastest Gun Alive Photos
Movie Info
In this western, a pacifistic store owner does all he can to avoid association with his father, a notorious gunfighter. One day he gets drunk and shows off his own considerable skills with a pistol. Unfortunately, this attracts the attention of the man who fancies himself the town's fastest draw and he heads to the store for a little confrontation.
Audience Reviews for The Fastest Gun Alive
131230: This is a bit of a funny movie. For the most part, I just found it takes itself too seriously. Most of the actors take themselves too seriously. From Glenn Ford to the woman who screams on the church steps when George Temple and his gang say they're holding her son. Speaking of Temple, he just doesn't come across as a guy who's fast but perhaps that's my mistake, and the mistake of all those who think they're faster. John Dehner as Taylor Swope, one of Temple's henchmen, was the highlight for me. He was the most convincing, and as the second fastest gun in the west, or is it the third, he plays his part well. With ten minutes left a big secret is revealed and my interest was piqued. The story takes a bit of a twist, which brought up my rating half a star. Definitely worth watching but, overall, a little too intentionally intense for me. Don't think it was supposed to make people smirk but it made me smirk. Kind of enjoyed it for that.
John Redshaw
The only villain here, is Jeanne Crain's character, who for some reason spends the entire picture in a tug of war battle with Glenn Ford, a battle between having fun, and being a complete and utter bore. That's usually how it goes in older pictures - the lead actor chews up the scenery, and the actress manages to land the role of the bickering bore. I tuned in to see 'The Fastest Gun Alive,' not the most boring woman alive.
Bloodmarsh Krackoon
This was my first Glenn Ford movie and overall I was impressed. The movie itself was simple but Glenn showed a much larger range of emotion for a western actor of that time. It was more like the westerns of now. Except for the 10 minute dance scene that had no relevance to the film. 2009 Movies: 9
Ross Loehner
The Fastest Gun Alive Quotes
| | |
| --- | --- |
| Eric Doolittle: | Get him out or we will burn the twon down and the church withit.. |
| Eric Doolittle: | Get him out or we will burn the town down and the church with it. |
Discussion Forum
Discuss The Fastest Gun Alive on our Movie forum!