Fat Head
(2009)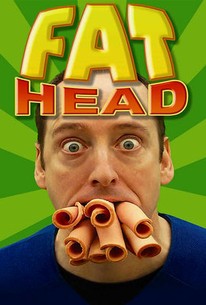 AUDIENCE SCORE
Critic Consensus: No consensus yet.
Movie Info
Comedian and former health writer Tom Naughton dispenses with the false truths perpetuated in such documentaries as Morgan Spurlock's Super Size Me by demonstrating why nearly everything the public has been told about obesity and healthy eating is pure bologna. By losing weight on a high-fat, fast food diet comprised of such dreaded artery-hardeners as double Quarter Pounders and fried chicken, Naughton proves that it's entirely possible to maintain a healthy weight while not depriving ourselves of our favorite foods. Conversations with doctors, nutritionists, and political scientists back up Naughton's claim that government agencies, researchers, scientists, and alarmist documentaries have made Americans so frightened of food that we're losing our ability to enjoy what we eat. ~ Jason Buchanan, Rovi
Critic Reviews for Fat Head
There are no critic reviews yet for Fat Head. Keep checking Rotten Tomatoes for updates!
Audience Reviews for Fat Head
I genuinely couldn't finish this movie. I kept checking to see how much more I had left. Not only is the production terrible (I'm talking lower budget than Tim and Eric great job-type stuff--bad graphics, often not filling the whole frame, bad music and random sound effects, slapstick humor, the same clip art over and over, strange skits?!, obnoxious repetitive vocabulary, the same cadence for every sentence in the V.O.), the content has a lot of issues too. There are a ton of logical fallacies--straw men, inconsistency, no true Scotsman, red herrings, etc. The movie perpetuates some myths (the only one that comes to mind is sugar rushes/crashes). The ideology gets in the way of its core message. It probably even lines up with my ideology for the most part, but the film maker is just so damn annoying, I couldn't take it. The people he debunks in the film are ass holes, but he's an ass hole too, and it doesn't make me want to keep watching. But I stuck it out 2/3 of the way through because I really enjoyed the heart of the content--all of the science and math behind this! Those "segments" are VERY well done. But so much could have been cut out of this. I only made it a bit less than 2/3 of the way through. This could have been really, really good if they had invested more time or review of the final product by someone who watches movies! It's just VERY difficult to watch.
Harrison W
In response to Morgan Spurlock's faux documentary about fast food, Fat Head examines the truth about nutrition and dieting in America. Much of the film discusses the corruption in government and its unscientific assessment of obesity and what constitutes a healthy diet. But the film also examines the disinformation and inconsistences put forth in Super Size Me. However, at times too many facts and figures are thrown out, and it feel like an information dump. And this is part of a larger structural problem that the film has in creating a narrative. Still, Fat Head is a fascinating expose on how healthy living is being sold to Americans and the politics that are being played.
Dann Michalski
Super Reviewer
Remember that "shocking" documentary SUPER SIZE ME that was "eye-opening" in how bad eating fast food is? This is the response, and it's pretty much this: SUPER SIZE ME is bullshit. It's a little long, but THIS is the eye-opening documentary that you should watch. Morgan Spurlock got fat eating 5000 calories a day without ANY exercise. (That, by the way, is debatable. If you ate three square meals at McDonald's and super-sized every one, you wouldn't reach 5000 calories.) Duh. If you ate 5000 calories of "heath" foods, you'd still get fat. This guy ate fast food for a month and lost 12 pounds. Watch it.
Robert Cross
Fat Head Quotes
There are no approved quotes yet for this movie.
Discussion Forum
Discuss Fat Head on our Movie forum!