Fat Man and Little Boy
(1989)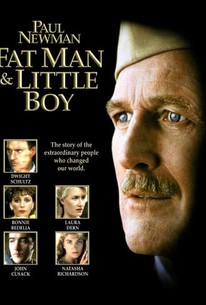 Fat Man and Little Boy Videos
Fat Man and Little Boy Photos
Movie Info
This historically-based film recounts the creation of the first atomic bomb and the people who played a vital role in its development during World War II. Revolving around the relationship between General Leslie Groves (Paul Newman), the military man in charge of the Manhattan Project, and scientist J. Robert Oppenheimer (Dwight Schultz), the story is marked with conflict and resolution as the two try to work together to reach a common goal.
Critic Reviews for Fat Man and Little Boy
Audience Reviews for Fat Man and Little Boy
½
To sum this film up: Nothing happens for two hours and then they blow up the Bomb. There was so much drama that could be milked from the Manhattan Project, but we end up learning nothing about the actual development of the bomb or even any character insights. Things just happen. What a waste. Manhattan may be over the top in making everything a zero sum game, but at least it gives us a reason to care about these people.
Stuart McCunn
½
I'm not good at fairy tales, little boy, so just give me the happy ending. General Leslie Groves is in charge of the Manhattan project in nowhere New Mexico. A group of soldiers are in the process of building the first atomic bomb; however, some soldiers are reluctant to finish the project because of the mass destruction their efforts may lead to. General Leslie doesn't care about their feelings, he cares about getting the job done. Who will win, the emotional soldiers or the unrelenting general? "Doesn't that make him an unnecessary risk?" "No, failure is an unnecessary risk." Roland Joffe, director of The Killing Fields, The Mission, The Scarlett Letter, Captivity, Vatel, City of Joy, Goodbye Lover, and the upcoming Singularity (Josh Hartnet), delivers Fat Man and Little Boy. The storyline for this picture is just okay but the characters are fairly interesting. The settings are perfect for the film and the actors deliver solid performances. The cast is impressive and includes Paul Newman, John Cusack, Laura Dern, Natasha Richardson, Bonnie Bedelia, and Dwight Shultz. "She's a known communist." I DVR'd this picture because it starred the infamous Paul Newman (that, and I had never seen this). I was pleasantly surprised this also starred John Cusack (I had no idea going in). Overall, I found this film better than average but a bit stale and boring at times. I would consider this a must see for Newman and Cusack fans, but I definitely would not add this to your DVD collection. You'll likely only watch it once. "Everybody should make it but me. I'm dead." Grade: C+/B- (6.5)
Kevin Robbins
Its an amateurish disaster.There is no focus and any serious moral posturing that could have been put worth is ruined by oversimplifying the questions and the answers.
Alec Barniskis
Super Reviewer
Fat Man and Little Boy Quotes
There are no approved quotes yet for this movie.
Discussion Forum
Discuss Fat Man and Little Boy on our Movie forum!