Fat Rose and Squeaky
(2006)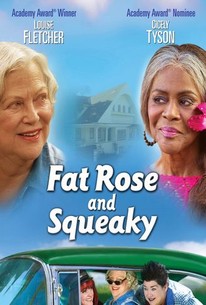 AUDIENCE SCORE
Critic Consensus: No consensus yet.
Fat Rose and Squeaky Photos
Movie Info
Two lifelong friends (Louise Fletcher, Cicely Tyson) resist an attempt to move them out of their California home and into an elderly-care facility. Julie Brown. Directed by Sam Irvin.
Rating:
NR
Genre:
Directed By:
Written By:
On DVD:
Runtime:
Critic Reviews for Fat Rose and Squeaky
There are no critic reviews yet for Fat Rose and Squeaky. Keep checking Rotten Tomatoes for updates!
Audience Reviews for Fat Rose and Squeaky
A not-so-quiet little movie that packs a wallop when it comes to showing how two elderly ladies cope with a world that has left them behind. This is no Golden-Girls with cheap laughs and stupid plots...this is a movie that shows like it is for two neighbors trying to take care of each other without the other one knowing it. When a money-hunting-long-lost niece shows up on Bonnie's doorstep, the movie begins to percolate with the theme of how society keeps on trying to get everything it can from those who can't protect themselves. Louise Fletcher of "Cuckoo's Nest" plays the oldest of the two ladies and man can she act. She's gotta be 75 or something and she was just awesome as the Bonnie Fitzpatrick character who ran away from her family at the age of 15 to marry a railroad worker in California. She is funny, scary, mean, sweet, and all things in-between. Still an Oscar actress, for sure. Cicely Tyson plays Louise's best friend of 40 years. Certainly a love hate kind of relationship where poetry and prose get all mixed up with paying the bills and feeding the neighbor's dog. Tyson was very good in her role as Celine Snow, but I liked Louise better. Julie Brown (Earth Girls Wanna Have Fun) and Lea DeLaria play these two nutso live-ins (Fat Rose & Squeaky) who haunt Bonnie (Louise) in a lot of ways. I was way lost in the beginnig as to why these two were so mean, but near the middle it all started to make sense to me and I was floored by the ending. Jo Anderson plays the evil niece (Christine) and she played her really, really well. I hated her from the moment she appeared on screen and I hated her at the end which if you are playing a villian is a good thing, right? Bottom line...what a nice little movie...a real find. Not sure why I didn't see it at the movies but I see it played on Showtime TV so maybe that's why. I would have loved to have seen it on the big screen I mean come on...Cicely Tyson and Louise Fletcher???? These women were and are incredible actors and they made me relate to a movie and the topic of aging in a way I never expected to have to or wanted to...but the experience was like eating my favorite piece of candy...delicious.
Manny Barton
Quirky, funny, pithy, and all things in-between...this hidden gem of a movie is incredbily entertaining. Louise Fletcher and Cicely Tyson, two fading giants of a time when movies were big,lush, and deep...take this very small movie and craft it into something important. The movie is mixed with lunacy from the likes of Julie Brown and Lea DeLaria, while at the same time being sprinkled with hard-edgbed-reality as presented by the bad-girl of this flick, Jo Anderson. Again, not your normal kind of beginning-middle-ending-hollywood fare which is really the charm of its engaging scenario. Funny, sad, silly, scary, and more importantly maybe all too real for those of us who happen to make it to a time when we are 70 years old, all alone in this world, and perhaps unable to fully understand the world like we used to. Despite some really tough topics in this film, it still bounces along with an energy and theme of optimism, hope, and friendship. It was a humbling experience to see the likes of Academy Award Winner Louise Fletcher and Academy Award Nominee Cicely Tyson on the screen doing what they do best...grabbing an audience by the heart and wringing it dry...just two awesome actors still making movies.
vernon treble
I cant believe cicely tyson even did this movie....OMG only on my boredest day will i EVER watch this crap ever again....Ms Tyson, you deserve better!
Quita L
Fat Rose and Squeaky Quotes
There are no approved quotes yet for this movie.