Fatal Frames
(1996)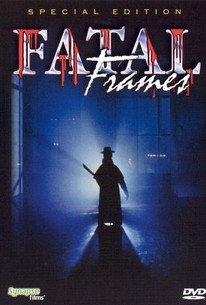 AUDIENCE SCORE
Critic Consensus: No consensus yet.
Movie Info
Trumpeted as the return of the classic Italian thriller, this inexplicably prize-winning giallo nuovo concerns an American director named Alex Ritt (Rick Gianasi) who is brought to Rome by his friend Daniel (Leo Daniel) to direct a music video featuring hot starlet Stefania Stella (Stefania Stella di Giandomenico). Ritt's wife was killed in New York as part of a series of five machete-murders videotaped by a black-gloved assassin, and as soon as he arrives in Rome, the killings begin anew, with Alex a helpless witness to all of them and the prime suspect. There's also a subplot involving occultists led by a creepy blind Countess (Alida Valli from Suspiria), and pretty soon a parapsychologist (scream queen Linnea Quigley) gets involved as well. The middle of the film consists primarily of an interminably tedious police procedural which drags the film out to an ungodly 137 minutes, but viewers are advised not to fall asleep before the film's mind-boggling conclusion, which must be seen to be believed.
Rating:
NR
Genre:
, ,
Directed By:
On DVD:
Runtime:
Critic Reviews for Fatal Frames
All Critics (1) | Fresh (0) | Rotten (1) | DVD (2)

Audience Reviews for Fatal Frames
I still can't decide if it was intentional to make a stereotypical Italian Giallo from the 80's or if they thought they were really making a good movie but either way I liked it. Fairly violent, lots of red herrings, bad dialogue and a nice twist make it feel like a lost film of Argento's or Fulci's. It also features the last appearance of Donald Pleasence who died during production and the makers do a great job of writing his character out of the film using a reference to that other famous movie he was in.
A.D. Villarreal
Super Reviewer
½
Fatal Frames in an excellent exercise in how to take an original idea and turn it into shit. We see a child sneak into his poppa's snuff films and then years later, several women are butchered in NYC by a serial killer who chops them up with a machete and films them. Now for the actual plot; a hip director (Rick Gianasi a.k.a. Sgt. Kabukiman) is flown to Italy to direct a music video for singing sensation Stefania Stella (played by....um...Stefania Stella). As luck would have it, women start to get chopped up and filmed in Italy. Hmmm. For the pros, this film features some great genre actors popping up here and there, including Donald Pleasence (in his final role unfortunately as a detective flown in from America), Angus Scrimm (as a ghost-artist-prophet whatever), and Linnea Quigley (who at this point, still looked very hot, but doesn't show any titties). As luck would have it though, the very busty Stefania Stell DOES show her ginormous titties in a dry humping scene (at least I hope it was a dry humping scene because you cannot pass off a sex scene when both people are clearly wearing underwear). Now for the cons. This film is WAY too long. 125 minutes is just too much for an Italian giallo-wannabe slasher. Cutting out all of the "music video" shootings probably would have knocked out at least 20 minutes alone. The film offered a really unique story that was original and even managed to sport a decent twist (sorta) at the end, but seriously, the same could have been achieved at about 95 minutes total. Secondly, the Italian people in this are either terribly dubbed or are having a hell of a time trying to speak their English lines. It was excruciating. Other than that, so-so slasher. The gore was great, and Stella's brief big titties shot was nice, but there are better slasher films out there. Much better.
Jason Duron
Discussion Forum
Discuss Fatal Frames on our Movie forum!
News & Features