Fatal Games (Killing Touch)(Olympic Nightmare)
(1983)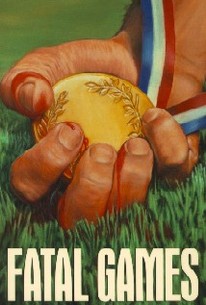 AUDIENCE SCORE
Critic Consensus: No consensus yet.
Fatal Games (Killing Touch)(Olympic Nightmare) Photos
Movie Info
As a group of young women train diligently for the upcoming Olympics at the Falcon Academy of Athletics, an insane murderer begins to inventively pick them off.
Rating:
NR
Genre:
,
Directed By:
Written By:
Runtime:
Studio:
Media Home Entertainment
Critic Reviews for Fatal Games (Killing Touch)(Olympic Nightmare)
There are no critic reviews yet for Fatal Games (Killing Touch)(Olympic Nightmare). Keep checking Rotten Tomatoes for updates!
Audience Reviews for Fatal Games (Killing Touch)(Olympic Nightmare)
Decent slasher, but far from one of the best. The killer was pretty creepy, and the deaths were well-done. However the ending totally ripped off Sleepaway Camp.
Cody Landman
"The Dr. thinks very highly of you and he wants me to start you on retardation injections." Jeez this whole movie is a retardation injection. This movie is also known as Killing Touch and Olympic Nightmare. What a boring piece of crap this movie is. The premise had a lot of potential which is why I sought it out. BUT IT WAS ALL FOR NAUGHT! So what is this asstastic pile of Jaleel White cardboard standees all about? I shall enlighten you. It is the "riveting" story of 7 high school kids who are olympic hopefuls in various summer events. The trouble is there is a killer in their midst who is quite good at chucking javelins. You would think that it would be hard to mess up a plot like that but you'd be surprised. All they had to do was make it completely uninteresting, MISSION ACCOMPLISHED! I really wanted to like this movie too but it just wasn't meant to be. Whats more is the fact that after they finally reveal the killer's identity, which I had narrowed down to 3 people by that time, they kill whatever momentum they had going by forcing a ripped off plot twist down your throat. At least be original people, we're talking about a javelin wielding killer here. All I'm going to say about the ending is this. Imagine the plot twist from Sleepaway Camp and then, pardon my pun, neuter it. Since it is a weak version of a stolen plot twist it carries almost zero weight and the end result is nothing short of a complete failure. Then, as if they're trying to rub salt in the wound, they have the killer fall and become impaled by a trophy. Is that supposed to be ironic? I find the tagline for this movie to be strangely appropriate. "The second prize is death!" Although if I was going to make a new tagline today I'd probably pick "Pontificate the perilous podium positions." So why did this movie get 1 star? I guess I did so for two reasons. The javelin kill cam, and the underwater javelin thrust maneuver. One of which I have included for you below. Maybe my third reason for doing so is the "Take It All the Way" song by Shuki Levy they play during the opening and closing credits. Should you watch this movie? Certainly not. Surely you jest.
Kurt Astbury
Fatal Games (Killing Touch)(Olympic Nightmare) Quotes
There are no approved quotes yet for this movie.
Discussion Forum
Discuss Fatal Games (Killing Touch)(Olympic Nightmare) on our Movie forum!