Father and Son
(2004)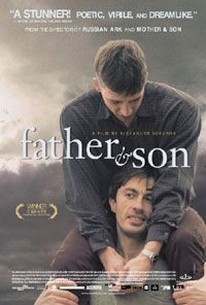 Movie Info
A father and son live together in a rooftop apartment. They have lived alone for years in their own private world, full of memories and daily rituals. Sometimes they seem like brothers; at other times, even like lovers. Following in his father's footsteps, Alexei attends military school. He likes sports, tends to be irresponsible and has problems with his girlfriend. She is jealous of Alexei's close relationship with his father. Despite knowing that all sons must one day live their own lives, Alexei is conflicted. Never has a love between a father and a son been so strong.
Critic Reviews for Father and Son
Audience Reviews for Father and Son
½
Avant-garde to the extreme, this film plays out like it really wants to be a smart, artistic film with beautiful imagery and little dialogue, but it really just comes off banal and a half-assed attempt at something truly poetic. Everything symbolic feels trite or so dense that Sokurov's metaphors are lost within everything else. Only a couple of moments did I feel like I was starting to understand what he was trying to say before he went and lost me again. Honestly, it felt like I was watching a foreign meldorama disguised as a foreign art film. There's a great deal of talk about the homo-erotic qualities to it; there are moments, but I could feel what he was trying to do was comment on the relationship of a father and his son and what that ultimately means, but all that needed to be subtext wasn't and all that needed to be said wasn't said at all. Whatever he was trying to convey, it got lost in his passion for trying to say it in the first place. The only thing I came out of it with was some nice cinematography.
Leighton Trent
Huh. An interesting product from Sokurov. I'm actually beginning to wonder if I have seen any Russian films other than from Sokurov. Here we have a very interesting relationship between a father and son that seems to border on relationship territory. Throw in a girlfriend and things are really weird..particularly in those long looks.
John Ballantine
Super Reviewer
½
A Russian film that is erotic, enigmatic, and baffling. No plot, dialogue that serves more as poetic musings, and visually dreamy and gorgeous. People never just look at each other but gaze at each other, and the two leads are heavily muscled and mostly topless throughout the film. The backdrops are spectacular: a dreamily lit flat, the incredibly steep rooftop outside where the father and son leap about, the tall, squished-together buildings of their port city, the train and it's intricate levers and buttons...This film is more enjoyable if experienced like a dream: an experience about deep feelings, the deep psychic bond between a father and his son, and the sadness, loneliness, and fear for both when the son begins to detach from this bond to pursue a bond with a woman. The unusually intense connection between the father and the son borders on erotic, and it almost feels like viewers are being made deliberately disturbed by the intensity of certain scenes. Not overtly explicit or sexual. Very arty film: definitely an acquired taste.
Christine S
Father and Son Quotes
There are no approved quotes yet for this movie.
Discussion Forum
Discuss Father and Son on our Movie forum!