The Father of My Children (Le pere de mes enfants)
(2010)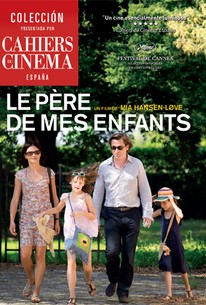 TOMATOMETER
AUDIENCE SCORE
Critic Consensus: A tragedy gracefully lifted by tender empathy and moments of joy, Father of My Children is a quiet triumph for writer-director Mia Hansen-Love.
The Father of My Children (Le pere de mes enfants) Photos
Movie Info
Grégoire Canvel has everything a man could want. A wife he loves, three delightful children and a stimulating job. He's a film producer. Discovering talented filmmakers and developing films that fit his conception of the cinema-free and true to life-is precisely his reason for living. His vocation. It fulfils him and Grégoire devotes almost all his time and energy to his work. He's hyperactive, he never stops. Except on weekends, which he spends in the country with his family-gentle interludes, as precious as they are fragile. With his bearing and exceptional charisma, Grégoire commands admiration. He seems invincible. Yet his prestigious production company, Moon Films, is on its last legs. Too many productions, too many risks, too many debts. Storm clouds are gathering. But Grégoire ploughs on at all costs. Where will his blind obstinacy lead him? One day, he is obliged to face the facts. In one word: failure. He is overwhelmed by fatigue. Which soon, secretly, turns into despair.
Critic Reviews for The Father of My Children (Le pere de mes enfants)
Audience Reviews for The Father of My Children (Le pere de mes enfants)
A man with a troubled professional life and an idyllic personal life is forced to re-evaluate his life. An hour into this film, there's an event which defines all that came before and comes after. But since the Flixster synopsis doesn't give it away (even though the Netflix synopsis does), I won't reveal it here. What I can say is that the film is thoroughly uninteresting for the first hour, but afterward it finds its focus and comes to a fairly satisfactory resolution. The film seems to be saying that any attempts we make in order to find meaning and existential security in our professional lives are not as satisfying as what we ignore in our personal lives. Overall, Father of My Children is poorly constructed and not well paced (the event an hour into it should have begun the film), but I ended up respecting it even if I couldn't like it.
Jim Hunter
Super Reviewer
One of those films that critics love, I guess. For me....ZZZZZZZZZZZZZZzzzzzzzzzzzzzzzzzzzzzzzz
Cynthia S.
Super Reviewer
An excellent treatment of a difficult subject that was all the more personal for this viewer because of the recent suicide of someone he thought he knew fairly well. Gregoire Canvel (Louis-Do de Lencquesaing) is a somewhat successful movie producer who has made some questionable decisions that have left his empire vulnerable. The first half of the film sets up the situation so that the audience understands why he would find himself in such a dark place, but he keeps all of this somewhat hidden from his wife, Sylvia (Chiara Caselli) and his children. The last half of the film shows those affected by this ultimately selfish act dealing with the fallout. Of particular note was the performance by Alice de Lencquesang as his eldest daughter, Clemence. She managed to make the audience feel her pain without resorting to melodrama. One gets the feeling that she suppressed her rage and despair in order to appear brave for her mother and her sisters, yet her pain was evident in the smallest of gestures. All of the actors were marvelous in this and quite believable. The scenes in Paris evoked life in a vibrant city, while those at the various shooting locations of the films Gregoire was producing helped the audience feel his world shutting down on him. The action is slow, but purposely so. This is not a subject that lends itself to rapid-fire jump cuts and action sequences. Only by allowing the story to emerge as it did here can we find anywhere to attach the strong emotions this created. This was a sad story, but it never wallowed in the sadness. One gets the sense that life goes on for those who remain, as it must.
Mark Abell
Super Reviewer
The Father of My Children (Le pere de mes enfants) Quotes
There are no approved quotes yet for this movie.