Father's Day
(2012)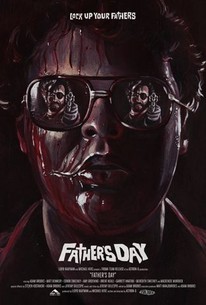 Movie Info
From original Japanese Translation: A film about a rapist that go around rapping father's. Ending where the victim seeks revenge. A classic tale with a twist. Of course, this is a comedy for our best enjoyment! -- (C) Official Site
Rating:
NR
Genre:
Directed By:
Written By:
In Theaters:
On DVD:
Runtime:
Studio:
Critic Reviews for Father's Day
Audience Reviews for Father's Day
Eat your heart out John Waters. This movie just blew Pink Flamingos, Turkish Star Wars, and Grindhouse out of the water in showing us how brazen filmmakers can dare to be when the likes of Lloyd Kaufman will literally let them show anything. Anything. There is a comically absurd amount of nudity (more male than female), mutilation, and explicitness. Add to the mix some of the narmiest, most Canadian writing ever, and only then can the over-the-top acting be matched. Hilarious editing is merely the icing on the cake. Credit where it is due, the car chase scene with actors (not doubles) jumping from sedan to truck without safety equipment was really dangerous, and therefore worth acknowledging. Same with the introduction and intermission bumpers, designed to make this movie feel like a Canadian edition of USA Up All Night. As with all Troma films, you have a general idea of what you're in for before you start. Unfortunately, I doubt this one will be up on Youtube for free, but it's worth tracking down and watching to shock yourself and your friends as part of a Bad Movie double feature, preferably chased with something less psychologically traumatic and emotionally scarring.
Altered Ego
Father's Day is undoubtedly Troma's masterpiece at present. A pitch perfect, self-aware horror comedy that pays homage to sleazy grindhouse and slasher fare of the late 70s and early 80s, Father's Day outsleazes them all with its depiction of a serial killer who rapes and kills fathers and the eye-patched hero named Ahab who will hunt him down. As twisted as it is funny, Father's Day pushes into ever more insane and unexpected territories as its 99 minute running tame unfolds. It blends together elements of an almost unlistable number of grindhouse and horror sub-genres: rape-revenge films, slasher films, demonic possession films, etc., etc. Father's Day outshines all Troma's other efforts because the comedy never devolves into absolute silliness. It still features all the blood, sex, gore, and bodily functions one expects from Troma, but the tone is more subdued and effective. This is self-conscious horror-comedy done right...Wes Craven and the Wayans Brothers should take note.
Al Miller
½
Wow! Troma is back with a bang! I dunno who this Astron 6 collective are, but they are absolute genius. They've captured everything the Grindhouse "stands" for and then some. There's complete nonsensical segments, hilariously awful dry jokes, allucination bits, over the top gore that made me flinch (and I've seen loads of these), incredibly hard to watch scenes, epic fights, memorable characters and I could go on and on on my favorite bits but they're just too many. Heck, there's even time to give some depth to pretty much all the characters, despite the type of movie. It shows the true love these guys have towards the genre and it shows on each scene and on each frame. Despite the brutal and shocking content, I had a frickin huge smile during the whole show. I wish more movies were like this: aware of what they are, never forgetting it's entertainment value.
Francisco Godinho
Super Reviewer
Father's Day Quotes
There are no approved quotes yet for this movie.
Discussion Forum
Discuss Father's Day on our Movie forum!