Fathom
(1967)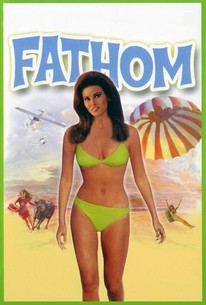 Movie Info
Raquel Welch breaks the surly bonds of Earth and loves every minute of it in this lighthearted spy spoof. Fathom Harvill (Welch) is an American skydiver touring Europe with a U.S. parachute team when she's approached by Douglas Campbell (Ronald Fraser), a Scottish agent working with American intelligence. According to Campbell, a triggering mechanism for nuclear weapons has gone missing in the Mediterranean, and Douglas wants Fathom to help find it. After encountering Chinese operative Peter Merriweather (Anthony Franciosa), Fathom discovers that Campbell is actually a private eye and that she's been tricked into helping him snag some jewelry. But what's the whole truth, and whose side is Fathom supposed to be on? ~ Rovi
Rating:
NC17
Genre:
, ,
Directed By:
Written By:
In Theaters:
On DVD:
Runtime:
Studio:
Twentieth Century Fox Home Entertainment
Critic Reviews for Fathom
Audience Reviews for Fathom
For some reason the James Bond factor, come for the action, women watch for whoever is portraying James Bond's hadsomeness, didn't work out for Raquel Welch. Maybe it relies on the fact that Welch is a skydiver who has a Bond girl name. Obviously, Welch's character doesn't have acrophobia, but maybe she should have given the success of Hitchcock's lame Vertigo.
Naomi Gonzalostein
I gave it a spin because it was a part of a little spy-themed handful of DVDs that MGM released to cash in on the Austin Powers 'buzz' of the time, so I grabbed one cheap at a Big Lots and figured I'd see what it was all about. The film is pretty silly, with not a lot for Raquel Welch to do save for look pretty and make you wonder why she was picked for this assignment, since she isn't actually a spy but rather a civilian who happens to be an expert in the area they need. Silly, and nothing I see myself coming back to at any point, unless I'm suddenly investigating Welch's career in depth. Rental.
Bill Bryant
Can you fathom Raquel Welch as a super spy? If so, watch Fathom! I think the strangest thing about this movie is that her name is Fathom, who names their girl Fathom, or is it some kind of nickname? Another question: why does Flixster say this movie is rated nc-17? It's not rated, and it doesn't deserve that rating anyway. Okay, so I thought this movie was a good spy flick, and I liked Welch as a spy too. It's a good movie.
Fathom Quotes
There are no approved quotes yet for this movie.