Fatso
(1980)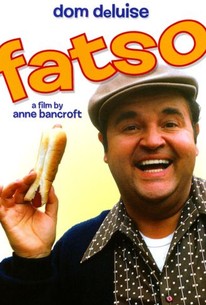 AUDIENCE SCORE
Critic Consensus: No consensus yet.
Movie Info
In this dark and sometimes sad comedy, Dominick -- an extremely obese man -- is pushed by his sister Antoinette to shed a few pounds lest he end up dead like his cousin. To do so, she helps him enroll in the fanatical weight-loss group, the Chubby Checkers, who will do anything to keep fellow members from over-eating. Another incentive for Dominick is his love for Lydia, a women whom Dominick fears has deserted him because of his obesity.The process of weight loss is torture, and he is left with a painful choice (one that the naturally thin don't always understand), suffer the pain and lose the weight or somehow learn to live with it. After his initial attempts to lose weight end in failure, and he goes on a gigantic food bender (one of the great binge scenes in movie history), in the end, Dominick learns that Lydia loves him for who he is, and he decides that he should do himself the same favor.
Rating:
PG
Genre:
,
Directed By:
Written By:
In Theaters:
On DVD:
Runtime:
Studio:
Anchor Bay Entertainment
Critic Reviews for Fatso
All Critics (3) | Fresh (2) | Rotten (1)
The name is insulting enough, but it does feature Dom DeLuise. Anne Bancroft directs.

Fatsoes unite and check this film out. It will help you remember that you're not alone in your fight.

Audience Reviews for Fatso
This is one very funny movie. Anne Bancroft and Dom DeLuise were great together. But eat a full meal before watching to avoid raiding the refrigerator.
Mark Mattei
½
I was surprised to see this on tv the other day I hadn't seen it in years I remembered right they do talk about sucking the jelly out of a jelly doughnut and filling it with a Reese's peanut butter cup lol
Lisa ?
½
Mildly amusing, almost dramatic film about the difficulty of losing weight. Dom Delouise, a hit standup comedian from the 1970-80s, stars in this film directed, written and acted in by legend actress Anne Bancroft. I love Dom as a standup comedian, but this romance-diet flick drags a bit here and there. Lots of crying scenes too, especially at the beginning where a relative has died prematurely due to being overweight. This event plus Dom's chance meeting of a girl customer entices him to lose weight. Of course, predictably he freaks out from the experience, but he succeeds in getting a date from his new love and wants to be engaged. It must have been love at first sight as no time at all passes between Lydia Bolowinski and Dom. Dom admits, it all started with Mom and now he says he's a fatso, 40 years old and he can't stop eating. Nevertheless, he wants his brother an sister to love him for what he is, a fatso. I rated this at a 70 because it just didn't quite cut the comedy test for me, but it is charming and the film has good moments between Dom and his brother that live together. Dom's Italian family are all of that, Italian. See it and decide for yourself, just what is Fatso? See a trailer at: http://www.rottentomatoes.com/m/fatso/trailers/10891016 NOTES about the film: 1 Writes Critic Peter Woo: "With a delightful blend of New York Italian culture and the human problem of overeating, Fatso makes for an entertaining movie experience. Loaded with some of the funniest comedy gags I have ever seen, Fatso is a very humorous and yet serious movie about a very touchy subject, Dom Deluise!" 2 Directed, stars in and written by veteran actress Anne Bancroft. Cast Dom DeLuise - Dominick Anthony "Dom" DiNapoli Anne Bancroft - Antoinette Sosonna (nee DiNapoli) Ron Carey - Frank "Frankie" DiNapoli, Jr. Candice Azzara - Lydia Bollowenski Estelle Reiner - Mrs. Goodman Richard Karron - Sonny "Big Guy" Loffolotto Paul Zegler - Oscar "Jew" Lapidus Father Bob Curtis - Father Monohan Michael Lombard - Charlie Sosonna Natasha Ryan - Ann Marie Sosonna David Comfort - Anthony Sosonna Sal Viscuso - Vito (Dom's cousin) Directed by Anne Bancroft Written by Anne Bancroft Music by Joe Renzetti Cinematography Brianne Murphy Editing by Glenn Farr Distributed by 20th Century Fox Release date(s) February 1, 1980 (1980-02-01) Running time 93 minutes
monsieur rick
Fatso Quotes
There are no approved quotes yet for this movie.