Faust: Love of the Damned
(2000)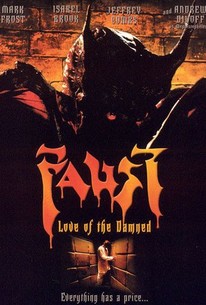 AUDIENCE SCORE
Critic Consensus: No consensus yet.
Movie Info
Brian Yuzna directed this hyperviolent, direct-to-video version of the classic Faust story. Mark Frost plays the man who believes he can survive a deal with the devil (Andrew Divoff). The story is based on a graphic novel of the same name created by David Quinn and Tim Vigil, giving the film a Spawn-like feeling.
Critic Reviews for Faust: Love of the Damned
There are no critic reviews yet for Faust: Love of the Damned. Keep checking Rotten Tomatoes for updates!
Audience Reviews for Faust: Love of the Damned
Oh dear. This was not a good movie. Apparently a movie cannot stand on the merits of its soundtrack alone. If it could, Faust would have been terrific. I thought it was going to be a horror movie about a guy's descent into evil by his own hand, but it's actually just a really gory superhero movie, not unlike Spawn. Despite being full of nudity, violence, heavy metal and deals with the devil, it's kind of a boring film. The synopsis above misrepresents what the movie is about, really: the avenging his lover is mere excuse to get the main character to the point where he's jumping around in red rubber and slashing people with his wobbly, Wolverine claws. The whole story actually revolves around a Satanic cult trying to do... something and the Faust guy trying to use his new hellish powers to stop them. The characters are all one-dimensional: the psychiatrist is only there so Jaspers has someone to rescue, Claire is only there because we needs tits, Jasper is there to visit gratuitous violence upon everyone he can get his hands on, and M's only function is to be a villain. I don't know why Andrew Divoff keeps getting cast as a sexy evil beast, because he is really only two of those things.
Emily Armstrong
Super Reviewer
Faust: Love of the Damned Quotes
There are no approved quotes yet for this movie.