Faust: Love of the Damned
(2000)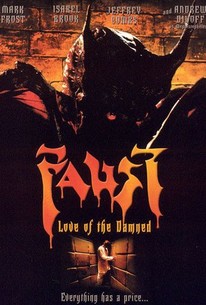 AUDIENCE SCORE
Critic Consensus: No consensus yet.
Faust: Love of the Damned Videos
Faust: Love of the Damned Photos
Movie Info
Brian Yuzna directed this hyperviolent, direct-to-video version of the classic Faust story. Mark Frost plays the man who believes he can survive a deal with the devil (Andrew Divoff). The story is based on a graphic novel of the same name created by David Quinn and Tim Vigil, giving the film a Spawn-like feeling.
Rating:
R (nudity, violence)
Genre:
, , ,
Directed By:
Written By:
In Theaters:
On DVD:
Runtime:
Studio:
Trimark
Critic Reviews for Faust: Love of the Damned
There are no critic reviews yet for Faust: Love of the Damned. Keep checking Rotten Tomatoes for updates!
Audience Reviews for Faust: Love of the Damned
Jeffrey Combs and the Wishmaster are both in this AND IT IS INCREDIBLY TERRIBLE. This is like... A movie about Satan worshippers creating a demon Batman who ends up foiling their plans for resurrecting Satan or something similar whatever. Really, pretty incredible. So bad. So ridiculous and confusing and sort of bizarrely funny? It's def a must see, at the very least.
Ruthless Rector
Hoo-boy, I was hoping that this turkey had aged better than it has, but it's still every bit as bad as I originally found it, from that first viewing back in the VHS days. Your lead is just terribly hammy, gurning and twitching and pulling all these stupid faces for the camera, and the hot broad playing the villain's main squeeze is cute and all, but she's just not enough to hold one's interest for a full 90 minutes with all the other dumb shit going on. Rental only, for gluttons for punishment like myself.
Bill Bryant
Faust: Love of the Damned (Brian Yuzna, 2000) The words "directed by Brian Yuzna" on a film are even scarier than the words "produced by Brian Yuzna" (q.v. The Nun, elsewhere this ish). Worse, I had no idea when I picked this up that it was a graphic novel adaptation, released at a time when the phrase "comic book movies" was defined by unwatchable Batman sequels featuring such master thespians as Jim Carrey and Arnold Schwarzenegger. And then I thought to myself, "it can't be any worse than Batman Forever. It just can't." And while I don't want to convey the idea that this is another Sin City, you know what? I was right. I've seen a number of bad Brian Yuzna flicks over the years; this one would vie with The Dentist as my favorite of his directorial efforts. Plot: John Jaspers (Mark Frost, recently of the TV series Hope Springs) gets picked up and thrown into the loony bin, raving about people out to get him, where he meets psychologist Jade de Camp (Alone's Isabel Brook) and tries to convince her of the danger he's in. No go, unfortunately, and John is summarily dispatched by those very folks who were, in fact, out to get him. M (The Dead Matter's Andrew Divoff) mentions, as they're offing him, that maybe they'll go find that cute doctor. As so often happens in movies like this, Jaspers then decides to deal with a higher authority in order to get revenge (viz. Spawn, The Dead One, The Crow, etc.). Once he's back on the street, well, he starts getting it, while trying to conceal his recently-deceased condition from Jade, who's starting to fall for him, as well. Yes, it's over the top, but Yuzna's over-the-top style does make for good comic-book mayhem, just as Burton's did in the original Batman film from the eighties. And yeah, Yuzna didn't grab A-listers for this one, but again, let me remind you what happened when Jim Carrey and Arnold Schwarzenegger appeared in Batman-franchise films. It's enough to make you flee screaming to the scale department. (Need I bring up the spectre of Catwoman?) And to be fair, no one here is really a bad actor; Frost comes off as a slightly upscale Thomas Jane, Divoff is his usual scenery-chewing self, and Brook is fine when she's not killing her career by appearing in dreck like About a Boy. Some decent special effects, a few cheesy action scenes, and of course that one scene that seems to be de rigeur in comic-book films where all the bad guys are sitting around a table discussing being bad. (The Crow, Blade, etc.) I think that, while it's not a world-beater or anything, it's taken way too much flack for simply being what it is: a dumb, fun movie where shit blows up a lot. **
Robert Beveridge
Faust: Love of the Damned Quotes
There are no approved quotes yet for this movie.
Discussion Forum
Discuss Faust: Love of the Damned on our Movie forum!