Favor
(2013)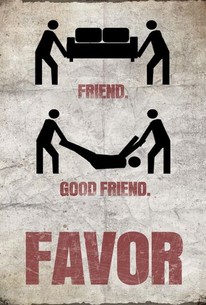 AUDIENCE SCORE
Critic Consensus: No consensus yet.
Movie Info
Kip's perfect life is put in jeopardy when the waitress with whom he's having a casual fling is accidentally killed in their motel room. Desperate, he turns to childhood friend and loser, Marvin, to help get rid of the body.
Audience Reviews for Favor
½
Friendship is one of the most important elements of growing up. We all have our close friends when we're in school, in some cases you get a different group of friends if you go to different high schools. Where I live that wasn't much of an issue, I went to a private school that had from preschool to senior year. I switched to the school for third grade and, really, I was friends with the same group of people from elementary school all the way up to my senior year. If some of you are fortunate, you're able to find someone that you're super close to. Someone that you feel comfortable telling anything to, no matter what it is. Someone who truly understands you. This would be your best friend, naturally. This brings us to a question that, I'm sure, many people have thought about, even if they don't actually share it out loud. What would you do for a friend? Would you really help them bury a body if they asked you? And this is the question that this movie poses. Admittedly speaking, I didn't really know what to expect from this movie as it relates to how they would tell their story. Because the movie starts out fairly straightforward. The movie immediately begins right in the thick of things as Kip has called Marvin, a childhood friend, over in order to explain his situation. He appeals to Marvin's desire to have someone in his life he can call a friend. Essentially, if you couldn't tell already, Kip asks Marvin with help burying the corpse of this woman he was having an affair with. A woman that wanted more than just sex out of her relationship with Kip. Kip, a successful marketing agent with a wife, panics at this as he does not want to lose his wife. Abigail, the woman he's having an affair with, starts to slap him when he refuses her advances, so he pushes her away and she hits her head on a nearby cabinet. This leads her to believe that Abigail is dead. Which is when he calls Marvin. Marvin does as Kip asks, as Kip worries about losing everything if he involves the cops in this. So far, so good. The film is fairly straightforward. The day after, Marvin visits Kip at his house and he seems a little off, whereas before he seemed eager and helpful. It is later revealed that Abigail, in fact, was not dead and Marvin himself had to finish the job before burying the corpse. So that's a twist. Marvin, however, keeping this knowledge to himself starts to extort things from Kip under the threat of if he doesn't do this, he'll go to the cops with the truth. Marvin first asks for $5000, then he asks to be set-up with one Kip's wife's single friends. Later he asks for a job that he is wildly unqualified for. Kip, obviously, complies with Marvin's requests as he does not want his perfect life to be ruined, especially now that his wife is pregnant with their first child. Obviously, things come to a head and Kip ends up having to fire Marvin for his job. Kip is at the point of giving up here, as the frustration of having to deal with his 'friend' leeching off of him, the stress of not knowing whether anyone suspects him of anything, his wife giving him shit for doing Marvin some favors. This all escalates in the final act where, not spoiling anything, you get to see what type of men both Marvin and Kip are. More the latter than the former, because you could tell that the former had a few screws loose. Having said all of that, what did I think about the movie? Honestly, I thought this was a really damn good movie all things considered. I know a lot of people (at least a more casual crowd) would, immediately, judge the film's look and instantly assume that the film accompanying it was crap. I'm not gonna mince words, the film's cinematography is lackluster to say the least. It certainly looks low-budget, I cannot deny that. Don't let that dissuade you, though, this is a really good movie. The film has a strong script and a really good pair of leads. Patrick Day, who plays Marvin, is really fucking good in this movie. He was in one of the Earnest movies from 1987, and I watched a few of those when I was a little kid, but I don't really remember seeing him in anything. Which is kind of a shame, considering how good this guy actually is. Maybe he's happier doing stuff behind the scenes, but I thought he was great in this movie. He manages to pull off both roles of someone who's desperate for a friend and someone who's also a menacing lunatic when he needs to be. He's got a friendly enough face that disguises his real personality. Blayne Weaver, who plays Kip, is another actor I don't recall having seen, but he's also really good here. Blayne and Patrick have great chemistry with each other in that 'you used to be close friends, now you're polar opposites' type of way that the film required. Marvin had to be delusional enough to believe that Kip was really attempting to be his friend. But he also had to be conniving enough to extort whatever he wanted from Kip. It's quite something to see play out on screen, particularly with how everything ends up. I don't think I have much else to say about this movie, I thought it was a very good movie that ended up taking some really interesting narrative turns. It might not be the most original movie on the face of the planet, but I would definitely recommend this. Strong acting and writing, I can't really complain.
Jesse Ortega
Super Reviewer
Favor Quotes
There are no approved quotes yet for this movie.
Discussion Forum
Discuss Favor on our Movie forum!