FDR: American Badass!
(2012)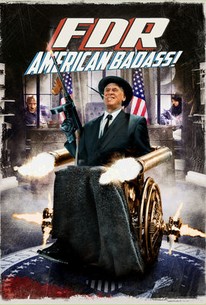 AUDIENCE SCORE
Critic Consensus: No consensus yet.
Movie Info
"FDR: American Badass" is a slapstick comedy that has the 32nd President of the United States riding a 'wheelchair of death' to stop the world from werewolves who carry the polio virus, including werewolf versions of Hitler, Mussolini, and Emperor Hirohito. The film, directed by Garrett Brawith and written by Ross Patterson, stars Barry Bostwick, Lin Shaye, Kevin Sorbo, William Mapother, and Paul-Ben Victor.
Critic Reviews for FDR: American Badass!
There are no critic reviews yet for FDR: American Badass!. Keep checking Rotten Tomatoes for updates!
Audience Reviews for FDR: American Badass!
I was always asking myself which president is the greatest monster-hunting US president: Abraham Lincoln or F.D. Roosvelt, and s an historian I am happy that finally someone provided an answer. This outrageous, over-the-top spoof comedy, directed by Garrett Brawith and written by Ross Patterson, stars: Barry Bostwick, Lin Shaye, and Bruce McGill. According to the producers, FDR: American Badass is the untold true story! I am glad it is... lol! [img]http://imagebox.cz.osobnosti.cz/film/fdr-american-badass/fdr-american-badass.jpg[/img] If you were missing in your repertoire of movies you recently watched, a fun, fast-paced, unapologetically silly comedy with great cast, excellent sense of humour, it is your turn to laugh! It is finally here. Infectious absurdist energy will spread all around you while you are learning that Franklin Delano Roosevelt was a foul-mouthed, pot-smoking, womanizing bad ass who used remarkably ahead-of-his-time slang like "good lookin' out" and "for reals." Everything in this movie is made for laughs. Finding out that FDR, while serving as governor of New York, contracted polio from a werewolf bite was outrageously funny, but it never stopped there: the Axis leaders in World War II -- Hitler, Mussolini, Hirohito -- were also werewolves who hatched a plan to infect American alcohol supplies with a werewolf virus! Our hero, luckily, on his side had a genius Albert Einstein, who helped him assemble a mechanized, fully loaded, armed-to-the-teeth wheelchair for the president to use in front-line combat. Recommended for fun - I guarantee that it will leave a smile on your face even if you're not sure what the heck is going on! Enjoy - with caution!
½
I thought that it was decent. I didn't care for the werewolf Hitler part though and thought that those scenes were horrible. it had some high points that I thought was funny. I was surprised with some of the funny parts and was entertained through most of it.
Peter Fish
½
Ever wanted to see Franklin Delano Roosevelt fire his rocket launcher wheelchair at Werewolf Hitler? Of course you have. Why are you still reading this? Go watch the movie.
Colson Verheul
FDR: American Badass! Quotes
There are no approved quotes yet for this movie.
Discussion Forum
Discuss FDR: American Badass! on our Movie forum!