Fear House
(2007)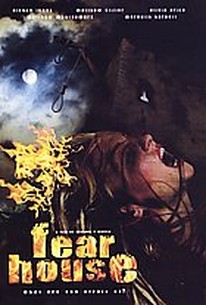 AUDIENCE SCORE
Critic Consensus: No consensus yet.
Cast
Critic Reviews for Fear House
There are no critic reviews yet for Fear House. Keep checking Rotten Tomatoes for updates!
Audience Reviews for Fear House
Awful. Just plain awful. There is literally no real plot, and random events/people/story-points come out of the blue randomly. How is this film even considered scary? Do not, I repeat, DO NOT see this movie unless you want to die slowly and painfully of "worst movie ever" syndrome.
Liz <3 Movies
Super Reviewer
½
I'm so jealous of Michael R. Morris. And I don't even like his film. [u]Fear House[/u] is about a writer (Aleece Jones) and her "beloved" real estate agent (?), according to the film, who disappear while he's selling her a creepy old castle for her to write her scary stories in. Her brother (I'm not going to be able to name the actors, for the most part, because I barely remember anybody's name in this film), his assistant (Olivia Price), her agent (dunno), her ex-husband (dunno), his new girlfriend (Kirsten Hall - notice how much better I do with the hot chicks), and the agent's daughter (dunno, for once) come looking for them, and find that they are trapped in the house thanks to a curse put on it by the ghost of a girl who died there. They learn this from the writer, Samantha, who they find there and who has gone thoroughly mad, ostensibly because of the evil in this house, which feeds on fear. They then stumble around in the dark for the next hour at least (it felt like two), almost getting killed a couple of times, until finally they all start dropping like flies and the movie ends. I lost the plot many times, and dreaded having to write this summary. The movie is very dark (like physically dark - I'm not talking about tone. "Poorly lit," in other words), not very scary, and worst of all, painfully slow. And yes, I'm jealous of it. To get an idea as to why, let's talk about what it does right. It has a great location and a talented cast. With some exceptions, they do a pretty good job with this material. If has props, some crude special effects, costumes, makeup, and a killer DVD with bonus features like a commentary and everything. In other words, it's a "real" film - a low budget one, to be sure, but all of the pieces are there. According to the commentary, it was shot in two weeks, but you wouldn't be able to tell that - there are no boom mics, no mistakes, decent edits, and all of the basics that you need to have a movie. Listening to the filmmakers talk about making it sounds like a great adventure and a lot of fun. And while most of it is pretty bad, the filmmakers admire the things they were able to pull off. The fact that they got this thing made and distributed is an achievement unto itself, and the fact that I, so far, have /not/ been able to vexes me no end. Though it isn't great art, it's adequate, and it exists, and I'm jealous of that. That said, what makes things even worse is the fact that given everything I pointed out that they had, a better script and a better director could have made a terrific movie out of these pieces. The first and most important thing a better director would have done is make it scary. The director here seems to have learned somewhere that methodical slowness and darkness would somehow make it "creepy" and "suspenseful," but honestly, I only think you can pull that off if you have a big budget, and thus, a score to go with it. Here, it's just boring. Better would have been a bunch of "boos" - sudden changes accompanied by loud noises to make viewers jump. It's the oldest trick in the horror book, but also the cheapest, and would have made this much more effective. What would have helped further would have been a simpler story that they just got to. To me, the benchmark for low budget horror is John Carpenter's [u]Halloween[/u] (1978), which could have been made with this budget. My favorite thing about that movie (which was discarded in the sequals and the TV version) was the lack of an explanation beyond "he's the boogey man." If there is more of a story to Michael Myers, we aren't told it explicitly. We get a teaser that tells us all we /need/ to know, and the action begins immediately as a result. We get "boos" almost right after, and we're off. That film has everything this film has, budget-wise, but is just better made. These filmmakers are talented at getting things done for less money, but their art needs work. That said, if you're looking for the possibilities of low budget, "B" cinema, this is a good example, if not in story, in technical specs. If you can think in terms of, "if I had this cast and these locations, what would I do?", you're ready to be a "B" filmmaker. The makers of [u]Fear House[/u] use what they have to make a complete, if flawed film. And I admire them tremendously for that.
Aslum Khan
Discussion Forum
Discuss Fear House on our Movie forum!
News & Features