The Fearless Hyena (Xiao quan guai zhao) (Revenge of the Dragon)
(1979)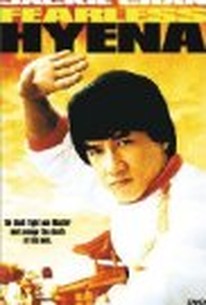 AUDIENCE SCORE
Critic Consensus: No consensus yet.
The Fearless Hyena (Xiao quan guai zhao) (Revenge of the Dragon) Photos
Movie Info
Jackie Chan's first directorial assignment is a showcase for its courageous star, whose considerable reputation rests on his near-masochistic willingness to accept incredible amounts of physical punishment in order to entertain an audience, and, as the title suggests, his ability to laugh about it. Chan plays Shing Lung, a talented but lazy young fighter who disobeys his grandfather's orders not to fight. This proves costly, as the brutal General Yen (Yam Sai-kwoon) is slaughtering all of Shing's grandfather's anti-Ching clan. As soon as Yen hears of Shing's unique fighting style, he hunts down the grandfather (James Tien) and kills him. Shing has to take various jobs (including one as a second-hand coffin salesman) and disguise himself as a pauper and a woman until he is ready to fight the general. Chan Hui-lau plays the crippled master known as the Unicorn, who trains Shing in a deadly form of fighting called "emotional kung-fu," which uses laughter and tears as secret weapons. After a lengthy training sequence in which the long-suffering Chan does 14 sit-ups upside-down without a cut while loudly slamming his back into a tree after each, Shing finally takes on the general and his trio of assistants. For this film, Chan returned to producer Lo Wei's studio to fulfill a contract, then refused to work for the studio again. The producer managed to cobble together a paste-up sequel, Fearless Hyena 2, but was so incensed at Chan that he reportedly used his triad ties to put out a contract on the star, forcing Chan to work in Taiwan for some time rather than returning to Hong Kong. ~ Robert Firsching, Rovi
Rating:
NR
Genre:
, ,
Directed By:
In Theaters:
On DVD:
Runtime:
Audience Reviews for The Fearless Hyena (Xiao quan guai zhao) (Revenge of the Dragon)
½
When Seasonal Film Corporation's sublease on Jackie Chan expired following a two picture deal, the up-and-coming martial arts star had little choice but return to Lo Wei Film Company where he was still under contract and often pigeonholed in incompetent kung fu comedies. Having lit-up the box office with Seasonal's "Snake in the Eagle's Shadow" and "Drunken Master" (released in March and October of 1978) Chan, much to Lo's chagrin, returned a star and suddenly the hotheaded filmmaker was ready to allow the boy wonder input intransigently denied in their five preceding turkeys. Lo, likely looking to exploit Chan's new found fame as much as Chan wanted to flex his newfound street cred, seemingly was much obliged in granting Jackie near total control on "The Fearless Hyena" as a means to an end. Yet despite having just finished back-to-back blockbusters that helped redefine the chop socky it is evident early in "The Fearless Hyena" Jackie Chan is relatively inexperienced as a director as much as he is as a writer as there is very little direction and a tiresome reliance on sophomoric humor. While more entertaining than most of Chan's past collaborations with Lo Wei Film Company "The Fearless Hyena" doesn't exactly prove a step forward in Chan's burgeoning career as a martial arts lead failing to transcend even the above average "Snake..." in terms of innovation, maturity, and style.
Adam Laidig
EightThirty .
Super Reviewer
½
Spectacular! Jackie Chan made his impressive on his acting and directorial debut in this Hong Kong epic comedy/martial arts film. This is funny and exciting with excellent ideas and stunt choreography by Chan. The fighting scenes are greatly choreographed and the story combines the fights in an easy to watch movie that entertains from the beginning to the very end. One of my favorite scenes is the Dueling Chopsticks scene in which the Unicorn prevents Shing (Chan) from eating by using his chopsticks.
Dean McKenna
Super Reviewer
The Fearless Hyena (Xiao quan guai zhao) (Revenge of the Dragon) Quotes
There are no approved quotes yet for this movie.