Fellini Satyricon
(1969)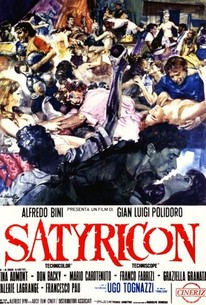 Movie Info
The fall of ancient Rome was brought about by debauchery and hedonism more so than any foreign invaders. Two students leave school to pursue their ribald sexual fantasies. The Roman togas cannot hide director Fellini's contempt for modern youth as he draws parallels between the moral decay of Rome and the hippies of today who live fort he moment. The two engage in homosexual behavior with an effeminate friend, and take pleasure in a Nubian slave girl. Encolpio (Martin Potter) battles the Minotaur in a confusing labyrinth. Ascilto (Hiram Keller) is his friend as he and Encolpio find themselves kidnapped and made into galley slaves by Tryphaena (Capucine). The two kidnap an albino hermaphrodite thought to have magic powers. Drunken orgies and fabulous banquets are the highlights of events for the morally decadent Romans.
News & Interviews for Fellini Satyricon
Critic Reviews for Fellini Satyricon
Audience Reviews for Fellini Satyricon
½
After Juliet of the Spirits, Fellini decided to push the colorful envelope even further with this dazzling, surrealistic version of Ancient Rome filled with greed, depravity and hedonism, but the big problem is that this disjointed, plotless film doesn't seem to know what it wants to say.
Carlos Magalhães
Super Reviewer
Fellini's fragmented "free adaptation' of Petronius' epic poem (much of which is lost) jumps around depicting adventures in the Roman world, from a decadent orgy/feast to the theft of a hermaphrodite demigod(dess), with a minotaur in between. Almost impossible to follow but always gorgeous to look at, it's a major indulgence from a major director; when extraordinary talent indulges itself, the results are usually worthwhile.
Fellini innovated in his time, but it just feels tame and underwhelming by today's standards. On the other hand, I rather enjoyed the dialogue.
Discussion Forum
Discuss Fellini Satyricon on our Movie forum!