Female Perversions
(1997)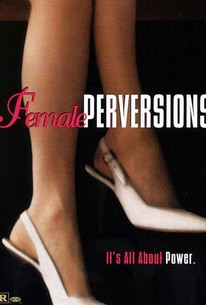 Female Perversions Videos
Female Perversions Photos
Movie Info
This fascinating, fragmented and complex drama eschews traditional narrative structure to present an intellectually challenging, feminist-oriented adaptation of Lousie J. Kaplan's book Female Perversions: The Tempations of Emma Bovary. Though the text, written from a Freudian perspective, is a series of case studies, the film centers on one character, Eve, an talented lawyer, who celebrates winning a case against a crooked business magnate. Eve dreams of becoming a judge, but when she gets a chance to meet the governor she finds herself filled with self-doubt and fear. She compensates for her lack of self-esteem by buying expensive clothing and make up. To make matters worse, Eve is an extremely sexual woman and with no regard to propriety hastily involves herself with Renee, a psychiatrist who has just moved into Eve's building. Meanwhile Eve's sister Madelyn has just been arrested for shoplifting. Madelyn is mentally unstable and when Eve learns of her trouble, she runs to the old boarding house where Madelyn stays. There in the ramshackle room Eve discovers that Madelyn has a few Super-8 films of her father's cruelty. Now both sisters must somehow come to grips with their own childhood pain and find some sense of control in their lives.
Rating:
R (adult situations/language, sex)
Genre:
,
Directed By:
Written By:
In Theaters:
On DVD:
Runtime:
Studio:
Trimark
Critic Reviews for Female Perversions
Audience Reviews for Female Perversions
Aptly named, this film depicts several activities labeled perverse by society at large, yet through those revelations we come to understand the demons that Evelyn (Tilda Swinton) is facing down. Strong performances by Swinton and Amy Madigan, as her (younger? older?) sister, Madelyn propel the film. Both women are successful, Evelyn as an attorney being considered for a judgeship, and Madelyn as a doctoral candidate about to make her oral defense of her thesis, and both women get a less than enthusiastic response from their emotionally distant father when they try to share their news. Excellent use of dreams, fantasy, and flashback to help the viewer understand Evelyn's fragility and somewhat self-destructive behaviors. Good supporting cast, with only a couple of weak links, and an interesting side-story concerning a young girl struggling with identity issues helped to keep it from veering off into pure psycho-drama. Good to see Karen Sillas, a personal favorite in a small role here.
Mark Abell
Super Reviewer
The women (played by Tilda Swinton and Amy Madigan) are so intriguing and complex that they almost overcome the trappings and limitations of a non-linear narrative that borders on the academic/didactic/pedantic. Almost.
Lee Mayo
As far as late night movies go, this one deserves some recognition. with a very well done performance from Tilda Swinton, and smooth direction the movie seems pretty good. Aparently adapted from the novel from a feminest and I can see how. The movie screams on just how the female mind works, for that this really is a chick flick. I've seen some wierd movies, but this one is one of the wierdest. Pretty good, with a decent morality rate, and good heart to the profoundness, keep such in depth to the reality behind on what the movie is based on. the movie takes on what so few movies dare to follow.
Joe Elizondo
Female Perversions Quotes
There are no approved quotes yet for this movie.
Discussion Forum
Discuss Female Perversions on our Movie forum!