North Sea Hijack (ffolkes) (Assault Force)
(1980)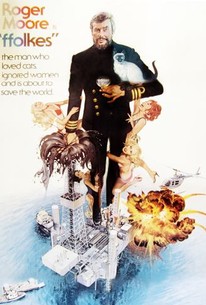 North Sea Hijack (ffolkes) (Assault Force) Photos
Movie Info
A special commando unit is formed to take down terrorists who threaten to explode two oil rigs if their demands are not met.
Critic Reviews for North Sea Hijack (ffolkes) (Assault Force)
Audience Reviews for North Sea Hijack (ffolkes) (Assault Force)
½
The popular title for this movie is Ffolkes, which confused me for years about what kind of movie it might be, but it's a thriller in which Roger Moore plays "Ffolkes" a guy who trains himself and his friends to be able to take down enemies and/or fight for good causes. Perkins plays the leader of a group of terrorists who want to blow up oil rigs in the sea. Both of them give good performances even if the story isn't that great. Overall, it's pretty good, and I kinda enjoyed it.
Roger Moore was without a doubt the prissiest actor to ever play James Bond. Here he plays Rufus Excalibur Ffolkes, eccentric leader of an elit anti-terrorist group. A man that hates women, and enjoying doing needlepoint tapestries of cats. His team is called in to service when a group of terrorists holds a trio of offshore oil rigs for ransom against the British government. The group is led by Norman Bates himself, Anthony Perkins. So Ffolkes and his team are called in to thwart the terrorist plot before they can send all three rigs to the bottom of the ocean. This movie is a real guilty pleasure, but it's also extremely well made. The visual effect for its time are outstanding, in its rendering of the giant offshore oil rigs. The acting is uniformally sound, even with Moore being his quirky, and somewhat girly self. More of a tension drama than an action movie, the film does follow a somewhat formulatic plot that would be repeated ad nauseum in the wake of Die Hard. The lone man against the terrorists, that kind of thing. Roger Moore is not a tough guy, and in all honesty, he never tries to make Ffolkes a tough guy. But he's smarter than everybody else in the room, and he takes great pride in showing that he knows that. A very heavily slanted British movie, some of the things are lost on a Yank. Like the terrorists demands for "One thousand million dollars." Um...wouldn't that be one BILLION dollars? Oh well. It's a very entertaining action thriller starring one of the most famous wimps in action movie history. But that's the great thing about the 80's...anybody could save the world.
RJ MacReady
Super Reviewer
½
Fun little action movie.
Anthony Valletta
Super Reviewer
North Sea Hijack (ffolkes) (Assault Force) Quotes
There are no approved quotes yet for this movie.
Discussion Forum
Discuss North Sea Hijack (ffolkes) (Assault Force) on our Movie forum!