Fifty Five Days at Peking
(1963)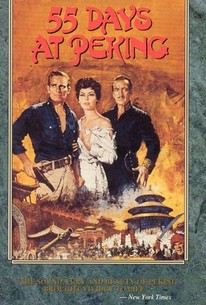 Fifty Five Days at Peking Videos
Fifty Five Days at Peking Photos
Movie Info
Epic retelling of the Boxer Rebellion in 1900 China, where an American major leads an army of multinational soldiers as they attempt to protect a besieged government compound against rebels and hold out until reinforcements arrive.
Critic Reviews for Fifty Five Days at Peking
Audience Reviews for Fifty Five Days at Peking
A violent wind of discontent disturbs the land. China is about to get invaded and their invaders use guerilla warfare tactics. The government of China has hit hard times and do not have enough funds to put together a military to defend themselves. An English and British officer join forces to hold off the invaders until additional reinforcements arrive. "He killed himself because I was unfaithful to him." Nicholas Ray, director of Rebel Without a Cause, Party Girl, Johnny Guitar, The Lusty Men, In a Lonely Place, Born to be Bad, and King of Kings, delivers 55 Days of Peking. The storyline for this picture contains some interesting characters placed in a unique setting. The script and acting is above average and the cast includes Charlton Heston, Ava Gardner, David Niven, Flora Robson, John Ireland, and Harry Andrews. "He's a good soldier when he knows what he's fighting for." I came across this some time ago on Turner Classic Movies (TCM) and decided to DVR it. This was an interesting picture and I enjoyed watching the story unfold. This isn't perfect and far from a classic, but it's worth seeing once. "He always gives me that feeling that God must be an Englishman." Grade: C+
Kevin Robbins
Pretty good apart from the pro-imperialist message and the use of white guys in atrociously bad and tasteless yellow face.
Stuart McCunn
A excellent old school movie with Charlton Heston in it, The US Calivery has been sent to China, excellent story line.. Woth 5 stars, short reviews trying to catch up on my reviews from my long absent. 5 Stars. 6-15-12
Bruce Bruce
Super Reviewer
Fifty Five Days at Peking Quotes
Discussion Forum
Discuss Fifty Five Days at Peking on our Movie forum!