Fifty Pills
(2006)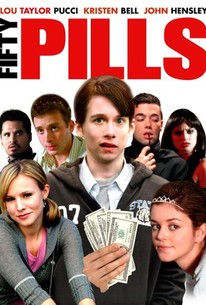 AUDIENCE SCORE
Critic Consensus: No consensus yet.
Movie Info
This collegiate farce directed by Theo Avgerinos had its world premiere at the 2006 Tribeca Film Festival. After a party thrown by his roommate, Coleman (John Hensley), violates their dorm-room probation, college freshman (at a thinly veiled New York University) Darren (Lou Taylor Pucci) loses his scholarship money and scrambles to raise the funds by selling 50 ecstasy pills given to him as an apology by Coleman over the course of a hectic day. While loading the pills off on fellow college students, friends, family, and Coleman's customers -- including a dominatrix named Petunia (Monica Keena) and an insanely off-kilter stock trader (Eddie Kaye Thomas) -- Darren must also finish a paper on Dante's Inferno, deal with his parents (Jane Lynch and John Kapelos) in New Jersey, who think he's gay, elude the mysterious Soul Man (Ron Yuan), and try to convince his crush, Grace (Kristen Bell), that he's not a sleazy drug dealer. Darren's crazy day comes to a head when some stupid but vengeful thugs led by Eduardo (Michael Pena) track down both Coleman and Darren at their dorm while the stock trader shows up looking for more pills.
Critic Reviews for Fifty Pills
Audience Reviews for Fifty Pills
½
The indie comedy Fifty Pills is mildly entertaining and manages to deliver a few good laughs. When Darren Giles loses his scholarship and is unable to pay his college tuition his roommate gives him 50 pills of ecstasy to sell in order to come up with the funds. Featuring Kristen Bell, Michael Pena, Eddie Kaye Thomas, and Nora Zehetner, the cast is pretty decent. However, the script isn't that demanding and the performances aren't that impressive. The comedy is also rather bland, as the satire isn't that sharp or edgy. Playing it a bit too safe, Fifty Pills comes off as formulaic tripe.
Dann Michalski
Super Reviewer
A decent movie,not nearly as bad as the cover suggests. Yes I did watch it because Kristen Bell was in it and she really doesnt get that much screen time. Oh well, still enjoyable and I did like the main character, he was comical.
let me explain the phenomenal acting of Lou Pucci for you: someone makes you sell pills to pay your rent, you act like you are 10 years old acting mad. someone tries to have sex with you, you act nervous. dominatrix tries to whip you, you act nervous AND scared. (curveball!) in conclusion, where is this mans ACADEMY AWARD?! where is it??
Coxxie Mild Sauce
Super Reviewer
Fifty Pills Quotes
There are no approved quotes yet for this movie.