The Fighting Seabees
(1944)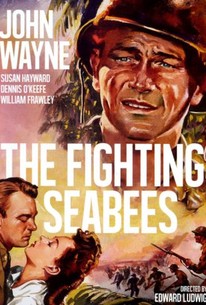 Movie Info
The Fighting Seabees is Republic Pictures' rip-roaring tribute to the US Navy's Construction Batallions (C.B.), without whom no plane would ever have gotten off the ground during WW2. John Wayne stars as Wedge Donovan, head of civilian construction company stationed in a pre-Pearl Harbor South Pacific war area. Despite Donovan's pleas to the Navy brass, he is denied permission to train his men for combat, the better to stave off imminent Japanese attack. Only after incurring heavy losses is Donovan given a commission and his men officially enlisted in the Navy. The self-sacrifical climax, as Donovan destroys a Japanese tank batallion at the cost of his own life, is one of the best-staged action highlights of its kind. As Constance Chesley, Susan Hayward finds herself in the unenviable position of being the apex in a romantic triangle involving herself, Wedge Donovan and Lt. Cmdr. Robert Yarrow (Dennis O'Keefe); her climactic speech, explaining how it's possible to love two men equally, is so well delivered that it transcends its essential corniness. Of the supporting cast, William Frawley stands out as Irish seabee Eddie Powers, who virtually signs his own death warrant when he begins singing happily just before an enemy sneak attack.
Rating:
NR
Genre:
, ,
Directed By:
Written By:
In Theaters:
On DVD:
Runtime:
Studio:
Republic
Critic Reviews for The Fighting Seabees
Audience Reviews for The Fighting Seabees
½
Racist, sexist, poorly written, and badly acted, The Fighting Seabees is interesting only as a WWII propaganda curiosity and a window into the less-than-politically-correct times.
Mark Post
This is a straight up Hollywood- propoganda- you-better-we-can-beat-the-Japs flick. While briefly kinda sorta capsulizing the creation of the SeaBees construction battalion during World War 2 it's loaded with good ole John Ford/ Wayne Irish drinking buddies battling stock war footage Japanese and USA Navy command. It's a paint by the numbers film but it's a great example of golden age Hollywood supporting the war effort in the 1940's.
Bobby Diablo
½
No more no less than a propaganda film, made during wartime. Wayne plays a construction chief convinced to the necessity of training construction workers to fight as well. There's a couple of good action scenes and Susan Wayward for the curious love angle ( she's the only female around on a Japanese held island!). Standard fare.
Kevin M. Williams
Super Reviewer
The Fighting Seabees Quotes
There are no approved quotes yet for this movie.