Filly Brown
(2013)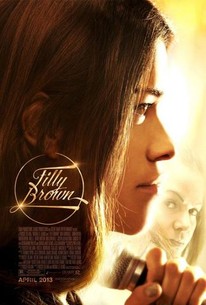 Movie Info
FILLY BROWN is an inspiring and gritty portrait of a young artist's striving to find her voice and seize her dreams without compromise. Majo Tonorio, a.k.a. "Filly Brown," is a raw, young Los Angeles hip-hop artist who spits rhymes from the heart. With an incarcerated mother, and a father struggling to provide for his daughters, a record contract could be the ticket out for her family. But when a record producer offers Majo a crack at stardom, she is suddenly faced with losing who she is as an artist and the friends who helped her reach the cusp of success. Directed by Youssef Delara and Michael Olmos, fused with a fierce hip-hop score, and propelled by an exceptional cast which features Lou Diamond Philips, Edward James Olmos, and the legendary Jenni Rivera in her final on-screen performance, FILLY BROWN heralds the arrival of Gina Rodriguez in the electrifying title role. (c) Official Site
Rating:
R (for language, some drug use and violence)
Genre:
Directed By:
Written By:
In Theaters:
On DVD:
Box Office:
$2,818,020.00
Runtime:
Studio:
Critic Reviews for Filly Brown
Audience Reviews for Filly Brown
½
It is not the most original of stories, but it is worth a watch. Everyone got exactly the ending that they deserved and there is something very satisfying about that.
Heather Metzger
½
Minus all the unnecessary cursing it was a pretty good story. The acting from Gina was believable and the music was pretty tight along with her flow. A pretty good watch.
Sylvester Echols
½
Majo (Gina Rodriguez - Go For It!) is a young Los Angelina with flair-to-spare and an unquestionable musical talent for rhythm and rhyming who dreams of making it big in the hip-hop music world so that she can help better provide for her hardworking father and younger sister as her family has struggled to make ends meet following a betrayal they all suffered at the hands of a selfish mother whose addictions and double-dealings with dangerous criminals imperiled her very own family's well-being. A cast of primarily unknown (and primarily Latino) actors stars in the gritty, urban drama Filly Brown. Filly Brown becomes the adopted moniker of Majo -- itself short for Maria Jose -- as she tries to capitalize on the wild success of a heartfelt, single (rather impromptu -- and rather catchy) song after she signs with a hustler of a record producer who promises her the world ... in order to get her signature so that HE can start making some money off of her. Majo begins her "journey" as guileless and naïve believing that most people are good and that others are always looking out for the best interests of everyone else. It is unfortunate -- but necessary for this predictable movie -- that Filly Brown does not quickly realize the truth of what is going on around her as she visits her mother in prison (the late banda singer-songwriter, Jenni Rivera in her first-and-only feature film performance) and readily takes her advice over that of her steadfast father (Lou Diamond Phillips - Courage Under Fire) and others who have actually always looked out for Majo. It doesn't make a lot of sense why Majo does some of the things she does -- she's rather contradictory for the sole purpose of adding "layers" to the film. Like the character, Filly Brown would like to be good and respected but it is hard to do so when it is all manipulated. Very little feels as if it is spontaneously happening onscreen (or in the film) as it mostly all comes across as scripted. The film's best moments are Filly's few spontaneous bits of musical outburst and some of the scenes featuring Rivera as a frightening mother figure you would not want watching over you at night.
Thomas Williams
Filly Brown Quotes
There are no approved quotes yet for this movie.