Films to Keep You Awake: To Let (Películas para no dormir: Para entrar a vivir)
(2007)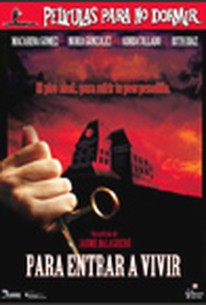 AUDIENCE SCORE
Critic Consensus: No consensus yet.
Critic Reviews for Films to Keep You Awake: To Let (Películas para no dormir: Para entrar a vivir)
There are no critic reviews yet for Films to Keep You Awake: To Let (Películas para no dormir: Para entrar a vivir). Keep checking Rotten Tomatoes for updates!
Audience Reviews for Films to Keep You Awake: To Let (Películas para no dormir: Para entrar a vivir)
"Stories to keep you awake" was a legendary Spanish TV series that told independent suspense / horror stories every week. As of 2006, some Spanish media have joined resources to produce a follow-up in the shape of six direct-to-DVD films, directed by some of the most popular Spanish film directors. "Para entrar a vivir" is helmed by Jaume Balagueró, director of "The Nameless", "Darkness" and "Fragile". The film is about a young couple who are looking for a new home. The man finds an interesting ad in his mailbox and they both drive to the suburbs. The building is almost derelict, and the efforts of the seller (Nuria Gonzalez) to calm down the couple fail miserably. Immediately, she knocks down the man and ties down the woman. The nightmare has just begun. Coming from Balagueró I expected yet another rendition of the haunted place story, but surprisingly Balagueró goes for an Argento-style psycho thriller and succeeds. The visuals may not be as polished as Argento's (after the failure of "Darkness" Balagueró has turned to a more barebones style), but the tension and the gore are certainly there. 4 Stars 5-9-14
Bruce Bruce
Super Reviewer
Unfortunately, I was very disappointed with this movie. This movie is about a young couple who are looking for a new apartment. When they go to check out an apartment for rent, they realize it's sketchy and something weird is going on. The movie starts off great. There is a huge build up of suspense, but it soon fades away and the movie becomes absolute garbage. When the family goes to check out the apartment, they see it is a total dump. They politely allow the landlord to show them around, even though they are not interested at all. The landlord acts very oddly and acts as though the couple have already decided to move in, but they haven't. When the couple- Mario y Clara start finding some of their personal belongings already in the apartment, they realize the landlord has been stalking them and they decide to leave. That is when everything started going downhill. The landlord turns crazy and kidnaps the couple (ohh didn't see that one coming!) It seemed like a good movie, UNTIL Mario and Clara got kidnapped then it turned out to be a cliched, predictable senseless torture of innocent people by a crazy woman. The movie really should be called "To Let Down" because that's precisely what it did. There were so many plot holes, it was so unrealistic just in the way it was executed. The couple had many, MANY chances to escape or take down the evil landlord-- it's 2 against 1 frail old woman! Come on now! Seriously, what the fuck. It was so dumb. The movie constantly lets the old lady beat up the younger, stronger couple which is totally unrealistic. I also love how Mario is able to take multiple (and I mean MULTIPLE we're talking at least 10) head shots. He's getting hit with frying pans, metal pipes-- just getting his head beaten in, yet he is still able to make rational decisions, see straight and walk fine. He's been knocked unconscious at least 3 times, but he doesn't show it at all. Anyway, besides the total joke of a plot, there's a few twists that don't make any sense. The twist I absolutely hated the most was the dogs. Where the FUCK did those dogs come from? It came out of bullfucking nowhere. I mean one minute the couple is standing in the lobby then the next there's 2-3 German Shepherds running down the stairs to shred them up? What? That to me, was so lame and so eccentric. There was no need for it and honestly it made the movie seem even worse than it already was. The movie was trying way too hard. The entire movie was predictable, there were no "real" twists. Everything that happened had been foreshadowed or you already knew from watching other scary movies what direction this film was headed. The only cliche this movie doesn't follow is the cliche that makes all the cell phones dead or have no service. In this movie, Clara did indeed have cell phone service and she called the police and her family multiple times. Her friend Nikki (whoever that is), knew that Clara was in trouble and was told to call the police and to give them the address of the apartment Clara was being held in. Clara even called the police herself so they would've been able to track her call eventually. However the movie says "5 days later" and the police are not there, and the parents of Clara and Mario have no idea where they are. Plot hole much? The movie is inconsistent, and is filled with cliches, predictable outcomes and unrealistic bullshit. Skip it.
½
Director Balagueró did it alright again. He gets the suspense right, as well as the tension of the action sequences from the beginning to the end with a good amount gore. Technically the film is good, it's well made with solid production values and the acting is very good. One of the better of the series Films to Keep You Awake: "To Let" will literally keep you awake.
Films to Keep You Awake: To Let (Películas para no dormir: Para entrar a vivir) Quotes
There are no approved quotes yet for this movie.
Discussion Forum
Discuss Films to Keep You Awake: To Let (Películas para no dormir: Para entrar a vivir) on our Movie forum!