Filth to Ashes, Flesh to Dust
(2011)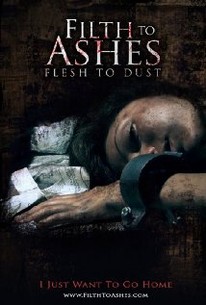 AUDIENCE SCORE
Critic Consensus: No consensus yet.
Filth to Ashes, Flesh to Dust Videos
Filth to Ashes, Flesh to Dust Photos
Movie Info
Six recent high school graduates venture into the den of a notorious serial killer, only to realize it may be the last mistake they've ever made. Eric and Shelly were attempting to avoid traffic when they ventured down a lonely country road, and encountered Purge. A psychotic killer without a conscience, Purge makes quick work of Shelly before Eric manages a daring escape. Flash forward one year, and Eric's brother Juan ventures into Purge's lair with a group of thrill-seeking friends. Upon realizing that Juan may soon become the killer's latest victim, Eric decides to look death in the face, and rescue his brother. Meanwhile, the intruders quickly discover that Purge can show mercy, but who amongst them is pure enough to receive it? ~ Jason Buchanan, Rovi
Rating:
NR
Genre:
Directed By:
Written By:
In Theaters:
On DVD:
Runtime:
Studio:
Critic Reviews for Filth to Ashes, Flesh to Dust
There are no critic reviews yet for Filth to Ashes, Flesh to Dust. Keep checking Rotten Tomatoes for updates!
Audience Reviews for Filth to Ashes, Flesh to Dust
½
"Filth To Ashes Flesh To Dust" is a serial killer/slasher flick directed by Paul Morrell. It stars Anton Troy, Meredith Laine, Allison Ochmanek, Armont Casale, Teodorico Paul Sajor, Linda Bella, Nicholas Leinbach and plays on elements of urban legend, culture clash racism and social conflicts within society-all wrapped up in a nice indie slice of slasher driven horror. The killer takes on the prey unrestrained by emotion, unmasked and with vicious brutality. He is faceless and yet he is many faces lurking in our reality which makes this fictional story that more intimidating, chilling and very entertaining. The story? Purge: To put to death, eliminate what is undesirable. The serial killer known as Purge lived and died by this code. But is he dead? Driving home from a road trip, ERIC and SHELLY take a back road to avoid a traffic jam. They encounter the serial killer Purge. Eric survives but Shelly is murdered. A year later, a group of adventure- seeking high school grads venture to purge's lair. Among them is Eric's brother JUAN. Eric sets out to save his brother, and get revenge on Purge. For the six teens, their imperfections will be the deciding factor if Purge shows them mercy. "Filth To Ashes" is one of those modern mythos that comes along that manages to create a pretty cool, new, horror legend. The story plays on actual social issues without over thinking the power points or falling apart completely during execution of the plot. It creates an emotional and heartfelt atmosphere that allowed me to connect with the characters -save one- I really didn't get "kick ass-cracked head girl". I got her story and why she was f*cked up, I just didn't get the portrayal of her that way right up till the end. I would have bought her obsession with Purge more if she would have been a bit sober and more realistic. Aside from that aspect the rest was acceptable enough to be convincing personalities in the film. Now the real thrills. The special effects and action/kill scenes in "Filth To Ashes" hold there own to any contemporary indie horror and had enough chilling intensity to make me feel sad about the character's dead while being thrilled to see the carnage unfold. I am a conflicted horror fan- I want to fear for my characters on screen and yet I want to be thrilled by their death at the same time. The killer in this film is one I would either run from screaming or sh*t myself and die instantly-he was brutal, intense and almost unstoppable. (Sequel news pending). This was a real good horror flick that I thoroughly enjoyed and would recommend for any horror fan who likes a slasher flick with just enough story to get us through the kill scenes without falling apart. I compare it to "Laid To Rest" but without a mask.
rick russ
½
A good effort to a story with an awful title. This is typical "group of friends go looking for thrills at site of murders" mayhem. There are too many plot holes and the ending is corny with its metaphysical openendedness. Still the actors tried really hard to play it seriously and the director mostly succeeded in a genre that has become very stale.
Don Schick
Mediocre plot with pretty bland characters and an uninspired killer. There isn't very much going on, and the film gets slow. Forgettable by the end.
Wes Shad
Filth to Ashes, Flesh to Dust Quotes
There are no approved quotes yet for this movie.
Discussion Forum
Discuss Filth to Ashes, Flesh to Dust on our Movie forum!