Final Examination
(2003)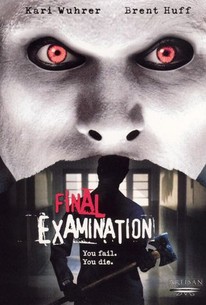 AUDIENCE SCORE
Critic Consensus: No consensus yet.
Movie Info
Four beautiful sorority sisters who gather for their five-year college reunion (at a beautiful -- and remote -- tropical resort) must deal with death, danger and a whole lot of split ends (literally!). One at a time, the women are being killed off by a serial killer out for revenge. Looks like school might be out … permanently! Stars direct-to-video poster girl Kari Wuhrer.
Critic Reviews for Final Examination
There are no critic reviews yet for Final Examination. Keep checking Rotten Tomatoes for updates!
Audience Reviews for Final Examination
½
I know I will catch some crap for giving this movie this high of a rating, but I have to tell you that the movie was fun to watch. Most things about it were horrible, which made it funny, but the car chases were ok. For a soft core porn (wasn't listed as one, but might as well have been), it meh. I had a great time watching it with friends, especially if you make up the dialogue on the spot. [center][img]http://www.thebuzzbin.com/images/finalexaminationclip1pic.jpg[/img] The above rating was for the experience, not the movie. So if you watch it with some friends, you should have an extremely mediocre time. [/center]
Seth Row
I had a bit more time, so decided to do another entry. [color=darkolivegreen][u]1. Little Black Book-[/u] Brittany Murphy is hot as always in this movie. I liked it because it's a little bit different than other romantic comedies.[/color] [color=#556b2f][/color] [color=olive][u]2. The Big Bounce-[/u] Owen Wilson is so freakin funny. This movie was just fun to watch, I watch it quite a few times. It's just fun and funny.[/color] [color=#808000][/color] [color=yellowgreen][u]3. Final Examination-[/u] This movie is crap. I don't even know what to say.[/color] [color=#9acd32][/color] [color=yellow][u]4. A Dirty Shame-[/u] This movie straight out sucked butt. I can't believe people like Selma Blaire were in it. What was she thinking? She must have been mislead to do this movie because it is no good at all. SUCKS!![/color] [color=#ffff00][/color] [color=lemonchiffon][u]5. Run Ronnie Run-[/u] This movie is pretty good. It is funny. It will remind you of Joe Dirt, but a little more non-hollywood in a way. If you know what I mean? If you don't, then you will when you see it!![/color] [color=#fffacd][/color] [color=white]Thats all for today, enjoy yourself.[/color] [color=#ffffff][/color] [color=#ffffff]Dacaso.[/color] [color=#ff8c00][/color] [color=sandybrown][/color]
Casey Southall
Final Examination Quotes
There are no approved quotes yet for this movie.
Discussion Forum
Discuss Final Examination on our Movie forum!