Finders Keepers, Lovers Weepers!
(1969)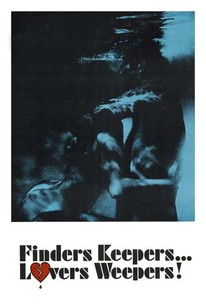 AUDIENCE SCORE
Critic Consensus: No consensus yet.
Finders Keepers, Lovers Weepers! Photos
Movie Info
Paul (Paul Lockwood) is a strip club owner, with a sexually repressed wife, who has been fulfilling his needs at the local brothel. Main madam Claire (Lavelle Roby) hatches a plan to keep him busy with whiskey and sex while a pair of thugs (Duncan McLeod and Robert Rudelson) hide out in the men's room after closing time to try their luck at cracking the safe. Paul gets a little out of hand at the whorehouse, so he's knocked out and dragged back home to his disgusted wife, Kelly (Anne Chapman). Meanwhile, the club's main attraction quits and bartender Ray (Gordon Wescourt) calls up, prompting the frustrated, confused Kelly to try her hand at the striptease herself while her drunken husband sleeps it off. She's a hit, with Ray at least, who seduces her and takes her back to his swimming pool, leaving the safecrackers free to ply their trade. When Paul sobers up and finds that his wife is missing, he heads for the club, not realizing the danger that awaits him.
Critic Reviews for Finders Keepers, Lovers Weepers!
Audience Reviews for Finders Keepers, Lovers Weepers!
Sure, it's faint praise, but "Finders, Keepers, Lovers, Weepers!" is one of the best Russ Meyer films I've seen. The basic plot isn't much -- two hoods plan to rob a strip bar while its philandering owner is out fooling around with prostitutes -- but the acting is decent, the soundtrack is atmospheric and the editing is sharp. The era's TV crime shows seem a prime influence here, both in the swanky score and in the artfully crooked camera angles. Anne Chapman is a real beauty beyond the required curves, and even shows more talent than most of Meyer's other leading ladies. The film's 71 minutes pass quickly. Weird bonuses: a creepy bit where a gal shaves her lover's chest as foreplay, and sex scenes that intercut absurd footage of Amish kite-flying (no, really!) and demolition-derby collisions.
Eric Broome
Super Reviewer
Finders Keepers, Lovers Weepers! Quotes
There are no approved quotes yet for this movie.