Finding Bliss
(2009)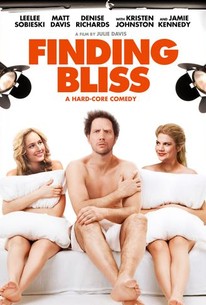 Movie Info
An award-winning film school graduate is forced to confront her sexual hang-ups when she makes the move to Los Angeles and reluctantly becomes an editor at a profitable pornography studio. Jody Balaban (Leelee Sobieski) is a 25-year-old filmmaker who's about to get a rude awakening. Despite Jody's collegiate success, she's still unemployed a year after graduating, and she's about to be faced with one of the most difficult decisions of her life. Jody isn't a fan of pornography, but it seems that an editing position at Grind Productions is her best shot at earning a steady paycheck. With great reluctance, the idealistic Jody goes to work cutting skin flicks by day, and scheming to realize her own personal vision as a filmmaker by night. Before long, Jody and Grind Productions director Jeff Drake (Matthew Davis) have become fast friends. Much like Jody, Jeff was once a "serious" filmmaker with ambition to spare. Jeff sees a little of himself in Jody, though these days his youthful idealism has long since given way to jaded cynicism. Meanwhile, as Jody begins feeling aroused by the very films she once judged so harshly, she realizes that the only way to truly live free is to finally face her own sexual hang-ups.
News & Interviews for Finding Bliss
Critic Reviews for Finding Bliss
Audience Reviews for Finding Bliss
½
In "Finding Bliss," Jody Balaban(Leelee Sobieski) graduates near the top of her class at NYU film school and has high expections for her career as a director in Hollywood. A year later, she has just been fired from another in a long string of low paying jobs and Garry Marshall will not return any of her phone calls. Things are looking up when Irene Fox(Kristen Johnston) offers her a job as an editor on a new film being directed by Jeff Drake(Matt Davis). The bad news is that it is for a porn studio which is especially awkward considering her past bad experiences with sex that went into her screenplay of "On the Virge." Once she thinks about it, she takes the job, figuring she can use its production facilities in secret to make her movie with her best friend Kathleen(Donnamarie Recco). Led by a pair of appealing lead performances, "Finding Bliss" is an amusing comedy that stumbles through some lazy and cliched jokes about the adult entertainment industry.(The table reading scene's sole reason for existence is apparently to get a rise out of Jody.) But instead of crudely insinuating that all Jody needs is to get laid, the movie takes the high road by saying that all that has to happen is for her to open her mind.(Speaking of surprises, Denise Richards actually gives a good performance.) The movie through Drake sees the possibilities of pornography which can be helped through a judicious use of editing. This is a place where many of these characters have landed at least temporarily while pursuing loftier dreams, which is true for so many in Hollywood. But at least none of the characters are making commercials.
½
I actually kind of liked this movie. It could easily have been a teen raunch film, but it still had enough heart and warmth in it to make it be a romantic comedy. Leelee was great with her role as the shockable innocent, which was rather endearing. And can I just say... Davis = YUM!
Leigh Ryan
Super Reviewer
A silly bit of fluff that actually proved to be more entertaining than this viewer expected. Disappointing, in that the situation depicted in the cover photo never even comes close to appearing in the film. Neither Leelee Sobieski, as the film student who lands a job at the adult film studio, or Kristen Johnson, the head of the studio, ever come close to dropping their clothes. C'est la vie! Fairly predictable boy meets girl story, but set on a porno sound stage. The nudity is brief and partial only, and the story turns up the cute factor considerably. But even with all that going for it, this viewer managed to stay with it to the end and actually felt some twinge of emotion. Snif! Is making one's first independent film really like this?
Mark Abell
Super Reviewer
Finding Bliss Quotes
There are no approved quotes yet for this movie.