Fingerprints
(2006)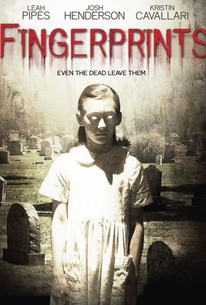 AUDIENCE SCORE
Critic Consensus: No consensus yet.
Movie Info
Loosely based on an urban legend centering on haunted train tracks, director Harry Basil's sophomore feature follows a young girl who was recently released from rehab as she moves back in with her parents and sister. When strange things begin happening around town, the recovering addict discovers that some restless spirits have a curious means of making their presence known among the local mortals. It's been fifty years since a speeding train collided with a bus full of school children, and the trauma of that tragic event still looms thick in the air of this tight-knit town. Now, just as a troubled young girl gets out of rehab, a disturbing series of murders that seem strangely tied to that tragedy begin to occur all around town. Brittany Snow and Kristin Cavallari star in a psychological shocker featuring Lou Diamond Phillips, Sally Kirkland, and Josh Henderson.
Critic Reviews for Fingerprints
All Critics (1) | Fresh (0) | Rotten (1)
[The mixture of supernatural and slasher elements] is a bit like a soufflé laced with Thunderbird wine: you might like one or the other, or even both %u2013 but not together.
Audience Reviews for Fingerprints
This movie would have been so much better if they had just focused on the paranormal aspect and turned it into a Sci-Fi thriller, instead of a slasher film. The mystery surround the towns past is truly fascinating, but the accompanying slasher part completely takes away from what is otherwise a very good story. Melanie and her family move from the big city to a small town after a recent tragedy. Once there, Melanie becomes obsessed with a local urban legend and decides to discover the truth behind it with the helps of some ghost children. Leah Pipes gives an absolutely amazing performance as Melanie. I hate it when such a great performance goes to waste because it's in some limit release horror film. I'd never even heard of her before this film, but she was so engaging and really got me into this film. Her sister in the movie is played by Kristin Cavallari, who is possibly the best looking girl I've ever seen. She didn't have as big a role in the movie, but she was so supportive and sweet when everyone thought her sister was crazy. Fingerprints seems like a cheesy b-horror movie, with it's poor cinematography and inexperienced supporting cast, but in reality, it's a fantasy story intermingled with a completely unnecessary secondary plot. I really had a love-hate relationship with this movie, because it could have been so much more than it was.
Todd Smith
Super Reviewer
A creepy paranormal ghost story, but it does have some bad effects and stale acting.
Jacob Palacio
Super Reviewer
½
Cast: Leah Pipes, Kristin Cavallari, Josh Henderson, Andrew Lawrence, Lou Diamond Phillips, Sally Kirkland, Geoffrey Lewis Director: Harry Basil Summary: A small town lies in limbo some 50 years after a horrific accident that saw a train plow into a school bus filled with children. Can a troubled teen (Leah Pipes) fresh out of rehab unlock the truth about what caused the terrible tragedy? My Thoughts: "The poster to this film is scarier then the actual film. The story is what is interesting. The things that was done to the children was pretty awful. The acting was OK. Some acting was a little over the top which made some scenes a bit cheesy. Not a bad film to pass your time with. But there's definitely nothing special or scary about this film. Well, unless you scare easily."
♥˩ƳИИ ƜѲѲƉƧ♥
Super Reviewer
Fingerprints Quotes
There are no approved quotes yet for this movie.