Finn's Girl
(2007)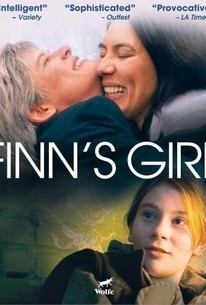 AUDIENCE SCORE
Critic Consensus: No consensus yet.
Movie Info
A grieving mother who has lost her partner and the rebellious daughter who flouts authority both become locked on parallel paths of destruction in this look at contemporary family values, reproductive rights, and pre-teen angst from co-directors Laurie Colbert and Dominique Cardona. Dr. Finn Jefferies works at a Toronto abortion clinic, and shares her life with a longtime partner and an eleven year-old daughter. When her partner dies, Dr. Finn becomes lost. Despite the fact that she wants the best for her daughter Zelly, Dr. Finn finds the intensity of her job and her unbridled grief gradually impeding her from being a responsible parent. Now, as Dr. Finn falls into the arms of a new lover, Zelly and her friends prowl the streets smoking dope, stealing, and ditching school. But sometimes, in the darkest depths of grief, suffering has a way of challenging ones concept of who they truly are and what they really know. Through it all one thing remains certain: if their mutual grief doesn't bring Zelly and her mother closer together it will drive them further apart than they ever imagined. ~ Jason Buchanan, Rovi
Critic Reviews for Finn's Girl
All Critics (3) | Top Critics (2) | Fresh (1) | Rotten (2)
Ultimately, the credibility and good intentions of Finn's Girl are sabotaged by the script's failure to tell just one story well.
June 6, 2008 | Rating: 2/4

Score several political points for this cheaply manufactured romantic fantasy.
In the end, Finn's Girl is a watchable story that grows on you, despite the heaviness of its good intentions.
June 6, 2008 | Rating: 3/5
Audience Reviews for Finn's Girl
It's very very encouraging, that there are people out there who strive to make stories like this one heard, speaking against discrimination of the gay people, and supporting their rights to parenting. Brooke Johnson is impressive in the role of Dr. Finn.A very honest effort by the film-makers, but not much of a result, I am afraid. Wish I had more stars to give!
Anastasia Bartzoulianou
Super Reviewer
½
[font=Century Gothic]"Finn's Girl" is a politically astute, yet dramatically unfocused movie with flat performances about Finn(Brooke Johnson), a doctor who has more than enough on her plate a year after her significant other Nancy(Gail Maurice) died of breast cancer. On the professional side, she works tirelessly to keep the abortion clinic that Nancy founded running, despite the threats from terrorists and the perpetual presence of protestors across the street.(Strangely there are only two. And why no counter-protests?) To protect her, she has the invaluable help of two friendly police officers(Yanna McIntosh & Gilles Lemaire) but they cannot stop somebody from taking a shot at Finn as she is leaving the office one day. [/font] [font=Century Gothic][/font] [font=Century Gothic]Finn also has definite boundary issues, taking Jamie(Nathalie Toriel), a fellow doctor at the clinic, as her lover and taking her home, where Finn raises Zelly(Maya Ritter), her 11-year old daughter with Nancy. No wonder Zelly is acting out. The movie's explanation is that she misses her mother, Nancy, as Finn struggles with with the unfamiliar task of raising her. But wasn't Finn always a part of Zelly's life and therefore as much a parent to her as Nancy was? Counter to the movie's illogical thinking, when considering parentage biology is not as important as to who is there for you.[/font]
Finn's Girl Quotes
There are no approved quotes yet for this movie.