Finnegan Begin Again
(1984)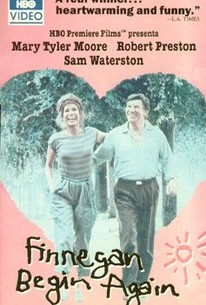 AUDIENCE SCORE
Critic Consensus: No consensus yet.
Movie Info
Written by Walter Lockwood and directed by Joan Micklin Silver, Finnegan Begin Again is a whimsical comedy drama about a late-blooming romance. Robert Preston plays a Mike Finnegan, 65-year-old newspaperman resigned to wasting his time on a lonely hearts column and caring for his ailing, unappreciative wife (Sylvia Sidney). Mary Tyler Moore portrays Liz DeHaan, a much-younger schoolteacher, recently widowed and mired in a go-nowhere relationship with a mortician (Sam Waterston). Liz comes to Mike for advice...and nature takes its course. Finnegan Begin Again premiered February 24, 1985, over the HBO cable service.
Rating:
PG
Genre:
,
Directed By:
On DVD:
Runtime:
Studio:
HBO
Critic Reviews for Finnegan Begin Again
There are no critic reviews yet for Finnegan Begin Again. Keep checking Rotten Tomatoes for updates!
Audience Reviews for Finnegan Begin Again
A marvelous, moving HBO tale of (1962 Music Man) Robert Preston at 65 finding new love on a bus. Preston uses the same demeanor, the same personality as THE MUSIC MAN, bringing joy to all he meets. Instead of the Think System used in the original sixties The Music Man, he borrows a "system" of detective logic developed in a Edgar Allen Poe novel. He impresses and infuriates Mary Tyler Moore with this "system" of deductive logic in their early meeting at a local restaurant. For those who loved Robert Preston in The Music Man original, this film has so many memorable parallels, but its set in a awfully depressed neighborhood in not so great Richmond, Virginia. Despite the low budget look of the film, a heartwarming tale of two lost souls finding one another. The genius of the film is its reality. [img]https://encrypted-tbn2.gstatic.com/images?q=tbn:ANd9GcSI612SGtTXygXVP53-g6f7sXulHN_djuSnMw-Vlqd6egUSl65V[/img] Michael Finnegan, a past-his-prime journalist, has been relegated to ghost-writing Dear Felicity, a column for the lovelorn. He and his wife live in a decaying neighborhood; his wife, still despondent over losing their young son, lives in a fantasy world. [img]https://encrypted-tbn0.gstatic.com/images?q=tbn:ANd9GcS5JsKks7Gz0xEt_kDh7N_F8jsupYtlIJ6O0RUR79F5MQU1teXI[/img] Storyline "Robert Preston is retired and taking care of his senile wife. He can't get her to allow him to throw anything out and their house has become unmanageable. He meets Mary Tyler Moore who is dating a man with whom she is hopelessly mismatched. They become confidants and each allows the other to share their life and experiences with them." Written by John Vogel Despite these reversals, Finnegan retains his optimism: he knows human beings begin again, and again. He gets his own chance to begin again when, one day on the bus, he meets Liz DeHaan, an art teacher who is having an affair with a married man. A romantic comedy of sorts, Robert Preston behaves like the Music Man (1962), bringing optimism and warmth to the screen once again. Mary Tyler Moore plays the older but not so wiser woman who is involved with a mortician, later famous Sam Waterson, in cheating on his wife with 3, then later 4 children. [img]https://encrypted-tbn0.gstatic.com/images?q=tbn:ANd9GcTPTHMIGQZZwBPtub2m-K3gjkocWNoMf5lbETrIQ7tEmU-Umv4C[/img] SEE the entire film here: http://www.youtube.com/watch?v=cvWERvx-ut4 REVIEWS by bums like us: 1 The movie is well-written and directed and the stars, particularly Preston, are just wonderful. I don't know if this one is on DVD but it should be. If you can find it, try to catch this under-rated gem. 2 It's a funny, warm, lovely movie, one that should appeal not only to an older audience but those younger audiences with mature tastes. Currently available only on VHS, this is certainly a film worth discovering! 3 Lovely chemistry between both stars, but it is the irreplacable Preston who charms his way into our hearts. 4 If you can find it, try to catch this underrated gem. [img]http://www.coverbrowser.com/image/vhs-videos/1322-1.jpg[/img] NOTES: 1 Finnegan Begin Again is a 1985 made-for-HBO original romantic comedy film starring Mary Tyler Moore and Robert Preston. The movie was filmed in Richmond, Virginia[1] and premiered in February 1985 before being released on video. 2 "Finnegan Begin Again", originally an HBO film, features the great Robert Preston (in his second-to-last film performance) [img]http://www.dvdfilmclassics.com/media/catalog/product/cache/1/image/9df78eab33525d08d6e5fb8d27136e95/f/i/finnegan-begin-again-dvd-cover_1.jpg[/img] Directed by Joan Micklin Silver Produced by Jan Wieringa Michael Deeley Gower Frost Written by Walter Lockwood Starring Mary Tyler Moore Robert Preston Sam Waterston Sylvia Sidney David Huddleston Music by David Sanborn Cinematography Robby Müller Editing by Jay Freund Distributed by HBO Pictures The Cannon Group Release dates February 24, 1985 Running time 111 minutes Country United States Language English [img]http://ecx.images-amazon.com/images/I/41V4Q1291SL._SL500_AA300_.jpg[/img]
monsieur rick
Finnegan Begin Again Quotes
There are no approved quotes yet for this movie.