Fire & Ice: The Dragon Chronicles
(2008)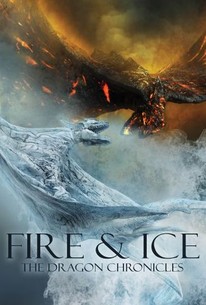 AUDIENCE SCORE
Critic Consensus: No consensus yet.
Fire & Ice: The Dragon Chronicles Videos
Fire & Ice: The Dragon Chronicles Photos
Movie Info
Her kingdom having come under attack from the rampaging Fire Dragon, desperate Princess Luisa recruits the brave knight Gabriel to slay the beast, and together they summon the fierce Ice Dragon. Later, as the two fearsome creatures do battle, Princess Luisa and Gabriel realize that they may have created an even bigger problem.
Critic Reviews for Fire & Ice: The Dragon Chronicles
All Critics (1) | Fresh (0) | Rotten (1)
It's basically a 21st century Godzilla movie in medieval fashions, but without the fun of suitmation effects and physical puppets.

Audience Reviews for Fire & Ice: The Dragon Chronicles
Typical SyFy movie production: cheap effects and poor acting. The dragons are largely unimpressive; they look more like kites than dragons. Also, the battle between the Fire and Ice dragons was disappointing. The story of courage and love, plus the girl next door quality of Amy Acker (who has very expressive eyes) as Princess Luisa, makes it worthwhile in the end, but just barely.
Don Schick
5 minutes in: Where's my vodka? 10 minutes in: These are the cleanest peasants I've ever seen. 11: That fire dragon looks like a burning manta ray. 13: Oh, yes princess, hide under the wooden cart from the fire dragon...thing. Totally safe. 20: Princess is out to find the mystery knight that slays dragons but is somehow banned. 23: Meet old warrior in the forest...attacked by Tree People aka teenagers in sweatsuits covered in branches and leaves. Pretty sure one of them is wearing a beanie. 24: When in doubt of your actors' ability to fight move the camera in and out, around, sma 28 minutes: Pretty sure the old dude is Rembrandt from Sliders. 30: bells ringing. The fire manta ray is back...I should probably start huffing paint at this point. 31: I just realized there maybe a dozen guards for a castle and village the size of Helmsdeep. 35: What Casio did they use for these loops? 37: Seriously? There's freaking projector in this movie...but it's gold encrusted, so it has to be medieval. Proven wrong again. 38: Out to the forest again. There's a big pane of glass in the background. 45: I've ended up on Cracked.com article: 6 Awesome Vehicles of War with Ridiculous Weaknesses 46: Wait...there's a black knight with non-regional dialect wearing netting that's supposed to pass as chain mail. 50: Seriously, why am I doing this to myself?
Nick Radcliffe
Fire & Ice: The Dragon Chronicles is Pitof's attempt at a made for television movie. That's exactly what this comes out to be.
The plot lacks meat and substance, which isn't surprising with a less than 90 minute story. As for the storytelling, it's somewhat choppy since the film tends to progress forward quite rapidly. That's probably a good thing, especially when there isn't any excitement to be seen.
The design of the dragons is interesting; however the mediocre CG doesn't do it justice. The action is also unimpressive, therefore lacking any entertainment value.
The acting performances are just as amusing as the characters themselves. In other words, lifeless and bland. Amy Acker and Tom Wisdom just get by at leading this film, but ultimately none of the characters are worth caring for. There are a number of reckless deaths and the dialogue isn't that great to begin with.
Fire & Ice: The Dragon Chronicles is far from a good movie and while there are worse films to see, there are many many many others that are better. Feel free to skip.
Fire & Ice: The Dragon Chronicles Quotes
There are no approved quotes yet for this movie.
Discussion Forum
Discuss Fire & Ice: The Dragon Chronicles on our Movie forum!