Fireball
(2009)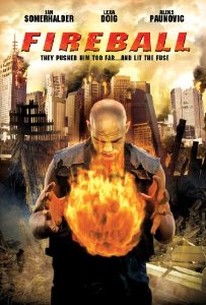 AUDIENCE SCORE
Critic Consensus: No consensus yet.
Movie Info
A former football superstar harnesses the power to create fire with his mind while serving hard time, and embarks on an infernal rampage of revenge in this sci-fi action thriller starring Ian Somerhalder. Tyler "The Fuse" Draven was a gridiron giant. But giants have a way of falling, and Tyler fell hard. But now he's discovered a power that can help him get revenge on everyone who ever wronged him, and when the flames start to fly, his enemies will fry. ~ Jason Buchanan, Rovi
Rating:
PG-13
Genre:
, ,
Directed By:
Written By:
On DVD:
Runtime:
Studio:
MTI Home Video
Audience Reviews for Fireball
½
Fireball (Kristoffer Tabori, 2009) Fireball (Thanakorn Pongsuwan, 2009) There were two movies called Fireball released in 2009. One of them, directed by Kristoffer Tabori (a serviceable TV series director with two big-screen features under his belt), is a Sci-Fi Channel Original Movie starring Lexa Doig. The other is a Thai martial arts film about extreme basketball. I'll give you a few seconds to decide which of them is the better film. Now that you're done laughing hysterically, we'll continue by noting that the single keyword attached to the American film on IMDB is âpantiesâ?. And I have no idea why, despite watching the DVD version rather than the TV version. Which should tell you how much I remember about this movie. I remember, as I mentioned, that it stars Lexa Doig, whose appearance in a movie immediately sends it into the dumpster (viz. Jason X, her last big-screen appearance for a decade), and has to do with a big, dumb prison escapee (Aleks Paunovic from Wishmaster 4) who finds himself with pyrokinetic abilities. Screenplay was written by Kariag Wenman, who was responsible for such cinematic classics as Intermedio and Confined. Basically, you get what you pay for. On the other hand there's Fireball the Thai sports flick, and I am able to admit that my weakness for sports films (despite my general dislike of actually watching sports) probably accounts for my liking this more than a lot of people did. It, too, involves Tan, a guy who just got out of prison (Preeti Barameeanat) thanks to his brother Tai basically bribing him out. His brother, however, is now in a persistent vegetative state, and it's up to Tan to figure out why. Thanks to a lead from Tai's girlfriend, he starts hanging around in the same places, and is eventually approached by people who think he's Tan (they're twins) and want him to get back into playing Fireball, a combination of basketball and May Thai where anything goes and billions of dollars are exchanged in underground gambling rings. There's a pretty ridiculous revenge subplot, some cheesy acting, the obligatory woeful subtitles, and the balance of big fight scenes to actual plot advancement is tipped way over, but for simple turn-your-brain-off fun you can do a lot worse than this. Like, for example, Fireball. Fireball (Tabori): * Â 1/2 Fireball (Pongsuwan): ***
Robert Beveridge
½
Something to watch if your having those dreaded post-Lost withdraw symptoms. It's pathetic, I know :(...
Daniel Quintana
Ian Somerhalder looking like he?s auditioning for MIB 3 playing CIA agent Lee Cooper alongside Lexa Doig as Ava Williams a forensic scientist for the fire dept. & Aleks Paunovic as shamed football star Tyler Draven Who is the antagonist the movie. This I liked. Was cool watch out for those DNA based steroids! The movie truly starts when Draven is taken into custody. The Police station goes ?poof? & I don?t mean as in to make disappear. The rest of the movie Officer Cooper & the Forensics lady is on a chase to try to stop ?Fireball? I do like where the ending takes place, I haven?t (if at all) seen that this might be the first time) & All I could say is ??IF only? C
Kym (c my community profile) Salvatore
Super Reviewer
Fireball Quotes
There are no approved quotes yet for this movie.