Firebreather
(2010)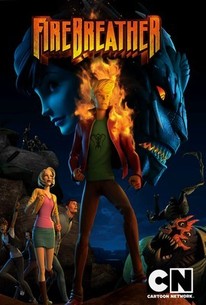 AUDIENCE SCORE
Critic Consensus: No consensus yet.
Movie Info
All Duncan wants is to be a normal kid in a normal school. Until he realizes he is something very far away from normal.
Rating:
G
Genre:
,
Directed By:
In Theaters:
On DVD:
Runtime:
Critic Reviews for Firebreather
All Critics (2) | Fresh (1) | Rotten (1) | DVD (2)
A rather entertaining and exciting anime influenced action adventure...

At just 70 minutes, Firebreather plays more like a pilot for a TV series than a real film, but it has its moments.

Audience Reviews for Firebreather
Firebreather is a 2010 CGI animated made-for-TV film, based on the Image Comics comic book series of the same name, which premiered on November 24, 2010 on Cartoon Network. On the last day of the war between humans and Kaiju, a woman named Margaret Rosenblatt (voiced by Dana Delany) and a 120 ft dragon Kaiju named Belloc (voiced by Kevin Michael Richardson) fall in love, and have a son named Duncan (I have to say that my wife kept asking how is that possible :-)?) Sixteen years later, Margaret and Duncan (voiced by Jesse Head) are moving into a new house as he gets ready for his first day at a new school. However, Duncan fears that his orange skin and appetite for coal with make others think of him as a freak and a prime target for bullies... now, if you find this story a little bit overwhelming... do not watch this movie! It is made for teenagers not for philosophers and deep thinkers... Mania.com's Rob Worley viewed Firebreather at the New York Comic Con, awarding the film a B+ and stating "Teen Angst + Kaiju Big Battle = CG Awesome!," but criticizing how the animation could be "... somewhat distracting as the characters sometimes have a puppet-like appearance." Worley concluded that he would like to see the film turned into a franchise or a TV series... and I agree! Cartoon Network's animated fantasy wows with tricks, quips and plates of coal... that's enough to enjoy it... but don't get carried away!
The worst movie I have seen. PLOT:Duncan wants to be a normal kid, but being born half-human and half-dragon it gets hard. Especially when his monster dad comes to get him and train him to lead the battle of the monsters against the humans. WHile this takes place, he als tries to get the attention of the hottie in school. This is poorly executed, makes hardly any sense, and overall just sucks! ACTING:In this case,voices. The voices are your typical Cartoon Network modern-TV voices. SOme can get annoying,but they are only standard. SCORE:Pathetic for such a pathetic movie. ANIMATION:New! For the films that have it,I will review it. The animation is ok...if this was a video game or made by a teenager. The animation was unnmoving and flaky. OTHER CONTENT:This movie has a sick set-up, as the son of a human woman and male DRAGON?? Freakin' disgusting. It's like a cult classic gone wrong! Almost like a bad dream. The only upsides was its realism to school life and the 2 good songs by Yeah Yeah Yeahs and Red Hot Chili Peppers on the soundtrack. OVERALL,a sucky movie with horrible animation,a plot that's sick and makes no sense,and annoying voice actors. Only positives are its soundtrack and realism to school life.
Kendall Irwin
½
A Cartoon Network Original Movie, Firebreather is a CGI based film based off the Image comic book series of the same name. The story follows Duncan, a teenager who was born half human by his mother and half dragon (referred to, in a homage to Japanese monster movies, as Kaiju) by his father. Duncan is attending a new high school and hopes to have a regular life. But when he has a run in with an obnoxious bully, it is revealed he has the power to breathe fire at will. This attracts the attention of his father, who abducts him in hopes of raising him as the next King of all Kaiju. Duncan then ensues to fight random monsters, as well as the usual cliched secret government agency that somehow knew all about it. While the story is quite predictable at times, and the animation is rather puppet-like, the design, the voice acting, especially Jesse Head, the voice of Duncan, and the action prove quite entertaining. The idea is quite fresh, especially among the onslaught of today's barely original anymore super hero movies that come out these days. While some of the side characters may seem underdeveloped, especially the two Kaiju antagonists, the story as well as the action barely manage to eclipse that, as well as Duncan's awesome display of fire breathing, which is no doubt the best CGI effect of the whole movie. While the movie' beginning doesn't exactly peak the viewer's curiosity at first, those who watch all the way through will hardly find themselves dissappointed. Overall, Firebreather earns a 3.5 stars out of five.
Adam Norby
Firebreather Quotes
There are no approved quotes yet for this movie.