Firecracker
(1981)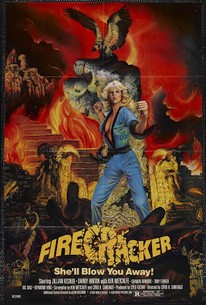 AUDIENCE SCORE
Critic Consensus: No consensus yet.
Movie Info
Low-budget action specialist Cirio H. Santiago directed this Philippine-set martial arts film, which bears more than a passing resemblance to his earlier T.N.T. Jackson and his later Angelfist. Jillian Kessner stars as Susanne Carter, a karate expert whose sister is murdered by mobsters. Genre regulars Ken Metcalfe and Vic Diaz co-star, and Kessner has a nude karate scene. Like most of the prolific Santiago's actioners of the period, this was released by exploitation specialist Roger Corman's New World Pictures, with ads touting Kessner as champion of the 1981 Black Belt Olympics. ~ Robert Firsching, Rovi
Rating:
R
Genre:
Directed By:
Runtime:
Critic Reviews for Firecracker
All Critics (1) | Fresh (1) | Rotten (0)
This 'TNT Jackson' remake is more enjoyable than its predecessor, thanks to an outrageous sequence in which Kesner progressively loses her clothing during a battle with a pair of thugs, scored to a jazz-rock Filipino rip-off of the B-52's' 'Planet Clare.'

Commercial Appeal (Memphis, TN)
Audience Reviews for Firecracker
A female karate master infiltrates an underground mixed-martial arts tournament in the Philippians, where her journalist sister when missing. Semi-remake of Santiago's own 'T.N.T. Jackson' that succeeds where 'T.N.T' failed. A kung fu-camp classic with some surprisingly good action scenes. See it on VHS as the DVD cuts out some of the cheesy gore. Rated: R
Matthew Dalldorf
When a film's trailer ends with the tagline "the first erotic martial arts thriller", I will admit as a guy it perked my interest. And what do you know, "Firecracker" lived up the narrator's statement as I found this to be a thoroughly enjoyable seemingly unknown martial arts film from the trashtastic film factory in the Philippines run by B-movie maestro Cirio H. Santiago. As expected the plot comes secondary and is basically a complete copy of Santiago's early Blaxploitation martial arts film "TNT Jackson", substituting the black lead with a white woman and moving the films location to the Philippines. I wouldn't doubt if Santiago ripped off the title sheet to the "TNT Jackson" script and replaced it with one that read "Firecracker", that's how much the plot of these films is alike! Here we have a sexy martial artist arriving in the Philippines to find her missing sister (instead of brother in "TNT"). She tries to work her way into a drug ring and ends up working with some undercover DEA agents (again, just like "TNT"). The absolute best part of this cheap martial arts thriller is Jillian Kesner as our sexy and deadly lead actress. Unlike the lead in "TNT Jackson" who had no martial arts abilities and was hired solely for her 'assets', Kesner not only has the looks but is an accomplished martial artist as well. Due to this she holds her own in plenty of violent fight scenes. I shit you not it's about ten in total with the first occurring in the first 2 minutes! Schlock director Cirio H. Santiago knows exactly the type of film he's making so he pulls no punches in showing off Kesner's beautiful body. In her first fight scene, she fights some guys that busted into her hotel room only clad in panties and a bra. One long fight sequence has her loose her dress (yes, that is unintentionally funny) and ends up fighting her enemies topless ! Silly and exploitative? Yes. Memorable? YOU BET! Cirio also peppers the film with some gory scenes, including a nights guardsman getting impaled by a tool and even some eye gouging. Scenes of gratuitous violence are always nice addition to spice up a B-movie. The choreography is also decent here making the fight scenes far more believable than those so-called fights in "TNT Jackson". "Firecracker" is bad but enjoyably so. The acting, editing and overall plot flow is laugh enducing but the fight scenes and sexy heroine makes this oh so enjoyable. A definite guilty pleasure of mine and hands down my favorite schlock film from cult director Cirio H. Santiago. It's just a damn shame Kesner didn't go on to do more films of this nature. "Firecracker" got it's long awaited DVD release from Shout! Factory in a triple feature tiled "Lethal Ladies" packaged alongside partner in crime "TNT Jackson" and "Too Hot to Handle". This set is worth checking out for fans of trash cinema.
Eric Reifschneider
½
Ummmmm......wow. I wish I was drunk right now. This movie might be better. At least the lead chick is hot, and naked a lot.
Brad Reiter
Discussion Forum
Discuss Firecracker on our Movie forum!