Firehead
(1991)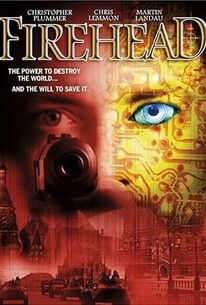 AUDIENCE SCORE
Critic Consensus: No consensus yet.
Movie Info
When a Russian with powerful psychic abilities secretly enters the United States, an American scientist is assigned to capture him. This sci-fi flavored espionage drama focuses on the scientist's quest, which becomes more complex when he discovers the true reason for the Russian's actions.
Rating:
R
Genre:
,
Directed By:
Written By:
In Theaters:
On DVD:
Runtime:
Studio:
Sovereign Pictures
Critic Reviews for Firehead
There are no critic reviews yet for Firehead. Keep checking Rotten Tomatoes for updates!
Audience Reviews for Firehead
½
Ineffectual action movie about an ineffectual cyborg and his ineffectual sidekick Chis Lemmon doing rather ineffectual things.
Alex Carawan
The only mystery in this film is how they got Christopher Plummer to be in it. As a bad movie lover, this film moved me in ways only images of men zapping things with laser vision can.
Addison Hoff
This movie really isn't very good. It tries to cash in on the last gasp of the Cold War by pitching us a story about a renegade Red Army dude with laser vision who's gone AWOL and is now blowing up factories. The thing that sucks about it is that Firehead never does anything spectacular. He's got all this power but never uses it. Why not? You're freak'n Firehead. Christopher Plummer plays ... himself as a crotchety old man who leads, "The Upper Order", a secret society of stuck up white dudes. The funny thing about his character is every time he got upset all I could think about was that he was going General Chang on us. DON'T WAIT FOR THE TRANSLATION! ANSWER ME NOW! That sort of thing. Anyway, the Upper Order, who wear these cutesy totalitarian smocks of victory, got together so they could hatch their plan to blow up an NIH facility with the president inside. NOTHING IS OUT OF MY CONTROL! Sorry, I was just channeling General Cha ... I mean ... Colonel Garland Vaughn (Christopher Plummer). The only problem is they forgot that you can't just sit the president down like a two year old and say "Ok Billy, you be good and watch the nice movie." So, obviously, the president gets up and is about to leave when they have to hit the nuclear bomb shelter button just to keep him shuttered in. After that it just gets stupid as biological scientist man becomes bomb diffuser action hero guy and the day is saved. Gee all it took was shooting Christopher Plummer. Why couldn't you guys do that before? People missing with firearms in movies bothers me a lot but this movie takes it to another level. There's a scene where the good guys are standing in a narrow hallway and someone comes up 30 feet behind them, with their backs turned, gets a shot off, and misses. How can that possibly happen? There's no where else for the bullet to even go? That's like getting a gutter ball in bumper bowling! It's not even possible. Oh I forgot to mention that these are SPECIAL OPERATIONS SOLDIERS! They wouldn't miss from 1 mile much less 30 feet in a narrow hallway with an unaware target. Ok, I've said my peace about that. In closing I'd like to say that I've tried to watch this movie before but never succeeded. I probably just wasn't patient enough with it. It's kind of like a special needs child. It's frustrating but it's not their fault, they can't help it. So all you can do is love on em and try to be patient.
Kurt Astbury
Discussion Forum
Discuss Firehead on our Movie forum!