Firestorm
(2014)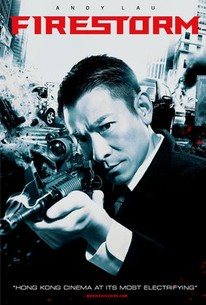 AUDIENCE SCORE
Critic Consensus: No consensus yet.
Movie Info
A tough police inspector (Andy Lau) puts his own morality on the line in order to stop a ruthless gang of criminals in this Hong Kong action thriller that marks the feature directorial debut of prolific screenwriter Alan Yuen (New Police Story, Shaolin). ~ Jason Buchanan, Rovi
Critic Reviews for Firestorm
All Critics (2) | Fresh (1) | Rotten (1)
Buckle up, get comfy, and have some fun with the twists, turns, and carnage.
While the action of Firestorm is thrilling, the weak ending and inability to follow through with its potentially promising story leaves the film feeling inadequate.
Audience Reviews for Firestorm
UPDATE* Def worth a rewatch. the sub sub plot is still shaky but the overall action and the legit whole ending quarter blows away anything 80% of american action directors would even attempt. No surprise here that even a sub par through-out Hong Kong film is more entertaining, well shot, well acted, and overall more interesting then 75% of US films.
Jason Kraynek
½
This is nothing more than just an action film. There's no such thing as character development or logic in this film. Action scenes defy the laws of physics and gravity in one case. Then again, Hong Kong practically invented the kung fu movie genre and those films never follow the laws of real life. I think the movie tries to have some character development, but it doesn't work since the movie jumps all over the place. Sometimes the movie focuses on Lui (Andy Lau), sometimes it focuses on Bong (Gordon Lam) and sometimes it focuses on that dude with the autistic daughter. Then again the last two characters I mentioned aren't really important, they're just there to make Lui realize that sometimes you have to get your hands dirty to catch the crooks as going by the book often results in the criminals getting off on technicalities. You can pretty much tell how they do this. Get ready for melodrama. Sad piano score playing and everything. They do everything to milk this for what it's worth. Yet it's really hard to care about this scene since, outside of barely getting to know the characters, you don't even remember their names. On the plus side it's also incredibly exploitative and manipulative. It didn't do anything for me and these two characters were there for no other reason and that was to die. Plot device. But, in all honesty, outside of the lack of truly interesting characters, this isn't really a bad action movie at all. It just happens to be one that ends up being incredibly hollow and shallow once you're doing with it. I was really surprised by how violent the climactic action scene was. It isn't just bloody, you get to see some pretty gory scenes of knees or hands completely destroyed. It's surprising because the film doesn't even hint that it's heading in that direction. All of the other action scenes don't have any gore whatsoever. Because of that it almost feels unnecessary and out of place. It's not really justified considering everything that we had seen prior to that that DIDN'T end up with people completely gored. It's violence for the sake of violence, not because it makes sense in the context of what they're trying to do. The film certainly borrows a bit from Infernal Affairs in how you don't know where Bong's and Lui's allegiances truly lie. They find themselves struggling with their own morality and doing what they feel is right versus what gets the most results the quickest. Not particularly inventive, particularly post-Infernal Affairs where, I'm assuming, a lot of Hong Kong thrillers openly borrowed from that film. This one is no different, but it's more subtle about it. I don't have much else to say about this. If you want something that's all action, and by that I mean there's no character development, then this is the film for you, particularly if you love Hong Kong thrillers. Ultimately, however, for me, it was a shallow experience with some truly unnecessary moments. It's average at best and that's still better than some Hollywood blockbusters. It's no Raid 2 however.
Jesse Ortega
Super Reviewer
[img]http://images.rottentomatoes.com/images/user/icons/icon14.gif[/img]
Directors Cat
Super Reviewer
Firestorm Quotes
There are no approved quotes yet for this movie.