First Name - Carmen
(1983)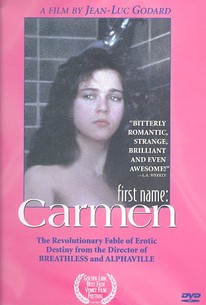 Movie Info
First Name: Carmen tells the parallel stories of a quartet rehearsing Beethoven and a group of young people robbing a bank, supposedly to get the funds to make a film. Director Jean-Luc Godard attempts to make a film that resembles a string quartet, each of whose parts serves an abstract whole. The film is a meditation on the difficulties of youth in the 1980s, the relations between cinema and capital, and how to film the human body. Godard fills the film with carefully composed shots of bodies playing music, making love, and acting violently. His attention to bodies in First Name: Carmen makes the film's images very close to sculptures, particularly those of Rodin. The film's engagement with painting and sculpture continues Godard's ongoing investigation of the relationships between cinema and other arts ~ Louis Schwartz, Rovi
Critic Reviews for First Name - Carmen
Audience Reviews for First Name - Carmen
½
godard seemed to be in a period where coherency and story mattered a whole lot less than art, which doesnt work in film, because the true art of film is the ability to tell good stories, but this film has enough other things going for it despite its lack of clarity that it is saved from disaster. the film is shot very well, and seeing godard in front of his camera was interesting enough. missing the charm of his earlier work but still very watchable.
one of Godard's few great (or at least near great) films that he's done since the 60s. yeah, he's been in quite a slump- Week End was, almost the end of cinema. he's rebounded once or twice, but this, alongside Notre Musique and maybe bits of Number Two is all he's been able to offer aside from mental masturbation
Jack Gattanella
½
(DVD) (First Viewing, 20th Godard film) It's interesting to note that [b]Prénom Carmen[/b] takes Godard back to the (now famous) phrase that [b]A bout de souffle (Breathless)[/b], his groundbreaking feature debut, was based on: "all it takes [to make a film is] a guy, a girl, and a gun." There are striking similarities between the two films- run-ins with the law, shoot-outs, a guy obsessed with a beautiful girl, and a girl who refuses to sleep with the desperate guy. But with 23 years between them, both films demonstrate remarkably different approaches in both narrative and filming techniques. It is loosely adapted from Mérimée's short story and the subsequent adaptations of that story (particularly Preminger's delightful [b]Carmen Jones[/b]), combines it with Beethoven's string quartets, and pairs it with Godard's and Raoul Coutard's typically bizarre visual and aural design- the result is a strangely beautiful reflection on obsession and destructive love. Could be another masterpiece, certainly one of Godard's best from the 80's.
Jesse Last
First Name - Carmen Quotes
There are no approved quotes yet for this movie.
Discussion Forum
Discuss First Name - Carmen on our Movie forum!