Firstborn
(1984)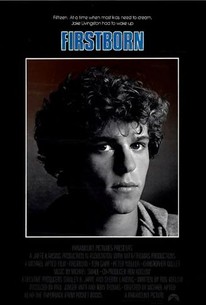 Movie Info
A teenager and his kid brother spar with their mother's shady new boyfriend in this dramatic thriller from veteran British director Michael Apted. When her ex-husband remarries, Wendy (Teri Garr) feels despondent -- until she starts dating handsome, unctuous Sam (Peter Weller), an underemployed salesman with no shortage of big ideas. Excited to finally feel good about herself again, Wendy invites Sam to move in and offers to invest in his get-rich-quick schemes. None of this sits well with her sons, Jake (Christopher Collet) and Brian (Corey Haim), who remain unimpressed with Sam even after he convinces Wendy to buy Jake a motorbike. They're even less jazzed when Sam stops currying favor and turns disciplinarian even while pulling Wendy into his hard-partying lifestyle. Within a few months, Brian's on the verge of expulsion for picking fights at school, and even honor-role student Jake is mouthing off to his teachers. As for Wendy, she's too busy taking beatings and doing cocaine to notice that her family has fallen apart. It isn't until Jake gets wise to the industrial quantities of white powder squirreled away under the floorboards that he comes up with a plan to get Sam out of their lives forever. Although onetime Tiger Beat heartthrob Christopher Collet plays Firstborn's title role, the films' supporting cast is littered with actors whose stars would far eclipse his (Sarah Jessica Parker, Robert Downey Jr.) -- though in some cases only for a little while (Corey Haim). ~ Brian J. Dillard, Rovi
Rating:
PG-13
Genre:
,
Directed By:
Written By:
In Theaters:
On DVD:
Runtime:
Studio:
Paramount Home Video
Critic Reviews for Firstborn
Audience Reviews for Firstborn
½
For an early 80s thriller this flick was a nice little surprise.Campy with a B movie charm that plays better for the middle age teenager at heart.
bill secor
Firstborn (1984) -- [6.0] -- Christopher Collet plays a tenth-grader whose divorced mother brings a drug-dealing boyfriend home in this drama from Michael Apted. The movie is pretty solid for its first two-thirds, ratcheting up the tension and creating a good deal of empathy for Collet and his little brother, played by the late Corey Haim (his film debut). The last act is a bit of a let-down, tied up with a relatively pat ending that feels forced and highly unlikely. I guess you could say the movie boxes itself into a corner. Peter Weller is scary as the volatile boyfriend while Teri Garr does her best with the thankless Mom role -- that anyone could watch this movie and not blame the mother for everything would greatly surprise me. Look for early appearances by future stars Sarah Jessica Parker and Robert Downey Jr as friends of Collet's character.
Scott Schirmer
Peter Weller is best known for playing the hero in movies like Leviathan, and most notably, the title character in Robocop. But somehow he seems more in his element playing a bad guy. Never better than here. He plays the sleazy new boyfriend of suburban mom Teri Garr. Instantly he butts heads with her oldest son played by Christopher Collet. He tries to come across as a nice guy, but Collet sees beneath the fake smile, and knows that this guy is bad news. Soon, the new man in mom's life has her out partying late, doing coke, and even getting involved in dealing drugs. With no father around, Collet decides to stand up for his family, and do what it takes to get this guy out of their lives. It's a movie that will resonate with anyone that has divorced parents, and had to deal with new adult figures trying to assert an authority position in their lives. Sometimes it's a good thing, and sometimes it isn't. This is one of the worst case scenarios of what can happen to a good family when a bad element is introduced. Weller is at his best, but the rest of the performances are equally sound. Garr can do the soccer mom thing in her sleep. Like his turn in The Manhattan Project, Collet gives us a very believable (although very different) character that easily identifiable with. His problems and concerns are very realistic, and Collet sells it enough to get the audience cheering for him when he finally stands up to the bully. Watch for appearances by a very young Sarah Jessica Parker as Collet's girlfriend, and Robert Downey Jr as his friend who is the first kid the know to get an earring. Ah, the 80's. This is also the film debut of Corey Haim.
RJ MacReady
Super Reviewer
Firstborn Quotes
| | |
| --- | --- |
| Sam: | Sam: Your mother and I, we're gonna get that restaurant |
| Sam: | Your mother and I, we're gonna get that restaurant. |
| | |
| --- | --- |
| Sam: | Sam: I swear I'll hurt you mother god dammit! |
| Sam: | I swear I'll hurt you mother god dammit! |
| | |
| --- | --- |
| Sam: | "The pinball machine is mine Jake, but you can use it anytime you want." |
| Sam: | The pinball machine is mine Jake, but you can use it anytime you want. |