Five Across the Eyes
(2008)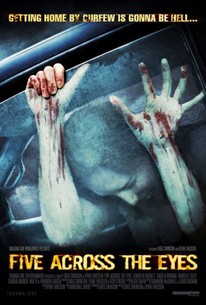 AUDIENCE SCORE
Critic Consensus: No consensus yet.
Movie Info
Five teenage girls on their way home from a high school football game become hopelessly lost on a darkened highway, only to find their situation turning deadly after causing a minor fender bender with an unattended SUV. They were traveling through an area known as "The Eyes" when they realized that they needed to stop and ask directions. Momentarily shaken after colliding with an SUV and leaving the vehicle one headlight short, the panicked teens gun the gas and flee the scene of the accident. Later, as the girls begin to realize just how dire their situation has truly become, a lone headlight appears in their rearview mirror. The driver of the damaged SUV has tracked them down, and the fight for survival is about to begin. Here, on this lonely stretch of road known as "The Eyes," five teenage girls will lose their innocence - and quite possibly their lives - over the course of one brutal and blood-soaked night.
Rating:
NR
Genre:
Directed By:
Written By:
In Theaters:
On DVD:
Runtime:
Studio:
Critic Reviews for Five Across the Eyes
All Critics (2) | Fresh (1) | Rotten (1)
At the very least, the flick shows a bit more creativity than your normal "forest slasher" misadventure.

Audience Reviews for Five Across the Eyes
½
For a film with such a small budget, this one is pretty good. It's creepy and funny, both intentionally and not. The quality of picture, sound and acting takes some tolerance but all in all it's really fun. And messed up.
Joe Hewitt
½
wow reading the reviews below on this one people dont know decent horror , This was a well done movie done in 8mm style with the grainy look in the film , what people dont realize is the more real it is the scarier it is BECAUSE THIS MOVIE COULD HAPPEN IN REAL LIFE . thats what makes it scary not CGI or any other special effects . its Reality people . stuff like this happens all the time. But there are a few problems i have with this , even though the girls were scared shitless common sense should fall into play after you calm down a bit , instead of trying to deflait the tires pull the plug wires , its alot easier and faster . or puncture the radiator . The other problem i had was all the screaming you couldnt understand what was being said . all and all a decent movie
Adam Utz
The film crew of this movie obviously didn't give a flying fuck about this film. Even if the director of this film got some of his buddies to watch it and give their opinion on it, I know for a fact the people would have said "Yo man, this work is a piece of shit bro. You can do better than that. Girls are hot though, but for real man, you couldn't pay me to sit through this shit." (assuming the people he asked were college boys, in which case their critique would have gone something like that). I just watched this movie because I know I will have to make films for college probably by the beginning of next year. I saw this movie was a low budget, horror flick that most likely used student actors. The movies I will have to make will also be low budget and use student actors, however my movies will be of much higher quality with talented actors and a plot that doesn't make me want to vomit. Everything about "Five Across the Eyes" is so like atrocious, I can't really take it seriously. I really like the poster of this film though. It shows emotional tension, fear, hopelessness, and blood. If only the movie was half as good as the poster....Anyway, I watched the credits and it seriously looks like 5 people worked on this film, there was like hardly any film crew lol. Just goes to show how blatantly awful this movie was.
Discussion Forum
Discuss Five Across the Eyes on our Movie forum!
News & Features