Five Star Final
(1931)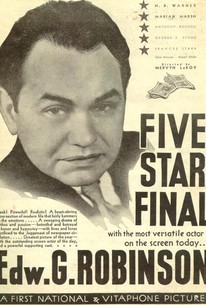 Movie Info
Adapted from the stage play by former newspaperman Louis Weitzenkorn, Five Star Final is an uncompromising look at the consequences of journalistic irresponsibility. Hounded by his publishers to pep up circulation with a sensational story, newspaper editor Edward G. Robinson decides to revive public interest in a long-ago murder case. He discovers that a woman (Sally Starr) who'd shot her lover nearly three decades earlier is now living under a new name and is married to a pillar of society (H.B. Warner). The woman's daughter (Marian Marsh) is just about to marry the son (Anthony Bushell) of another wealthy couple. Robinson sends one of his slimier reporters (Boris Karloff), a onetime divinical student who'd been expelled for sexual misconduct, to visit the woman and secure a photograph. The underhanded reporter disguises himself as the clergyman who will officiate at the wedding, worms his way into the family's confidence, and appropriates the photo. When the story hits the papers, the woman desperately tries to call Robinson and ask him to cease and desist, but Robinson is unmoved. The disgraced woman commits suicide, as does her husband a few moments later. The groom's parents snobbishly try to call off the wedding, but the groom stands by his fiancee's side and is disinherited. The grief-maddened daughter breaks into Robinson's office with a gun, threatening to kill him for ruining her mother. She is calmed down by her fiance, who warns Robinson that he himself will come back for revenge if the newspaper ever mentions the dead woman's name again. Five Star Final was remade in 1936 as Two Against the World, this time set in a radio station instead of a newspaper office.
Rating:
NR
Genre:
, , ,
Directed By:
Written By:
In Theaters:
Runtime:
Studio:
Vitaphone Corporation
Critic Reviews for Five Star Final
Audience Reviews for Five Star Final
Five Star Final (Mervyn LeRoy, 1931) If you're a fan of Edward G. Robinson's (and if you're not, you should be), you've gotta get your hands on this ridiculously over-the-top melodrama, made very early in Mervyn LeRoy's career and nominated for the best Picture Oscar in 1932 (it lost, and deservedly, to Grand Hotel). Robinson plays Randall, the newly-installed editor of a New York tabloid who wants to turn the paper in a more traditional direction, so he assigns muckraker Vern Isipod (Boris Karloff) to the society pages. You can see where this could go wrong, and indeed it does, in record time, with Isipod attempting to dig up dirt on a socialite in order to prevent her upcoming society marriageâ"and in the process causing her family irreperable harm. There is much scenery-chewing from everyone involved, an inspid script delivered with great gusto by the cast, and that still-early-in-the-world-of-talkies overexpression rampant. It's ridculous fun. ***
Robert Beveridge
A great performance by Robinson and a scathing hatchet job of sensationalistic media. When a newspaper decides to increase circulation by re-serialising a long dead passion-killer case; the acquited defendant finds her life being turned upside down again on the eve of her daughter's wedding. With film adaptations of stage plays, you rarely see any filmmaking qualities other than point and shoot. But here, there are quite a few tracking shots, including one following a suicide attempt using silhouettes and fades, that are impressive anyway. Doubly so for a 1931 shoot. A great lesson to be learned to anyone who allows for the manipulation of their morality by a media who merely seeks their dollar.
Nik Browning
Outstanding melodrama about the cold and heartless newspaper industry, and it is amazing how little things have changed with the press in eighty years. As always, Edward G. Robinson is terrific, Aline MacMahon stand out in a supporting role, as does H.B. Warner and Boris Karloff. It's a heart wrenchings story, skillfully told with solid direction from Mervyn LeRoy. A gem of a film with vivid characterizations and a skillfully written screenplay.
James Higgins
Discussion Forum
Discuss Five Star Final on our Movie forum!