The Mountain
(2011)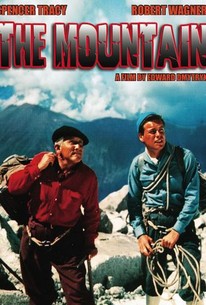 AUDIENCE SCORE
Critic Consensus: No consensus yet.
Movie Info
Filmmaker Ghassan Salhab offers an unusual look at the creative process in action in this low-key drama. A man in his mid-40s (Fadi Abi Samra) catches a ride to an airport in Beirut, rents a car and then takes a long drive to a motel in a remote village in the mountains. The man rents a room for a long stay, settles in and then takes out a package of paper and a fountain pen. For the rest of the film, we watch the man as he writes poetry and wrestles with his muse, experiencing a wealth of complex emotions as he tries to put his thoughts into words. Is this man simply a writer working on his latest project? Or is there something deeper at work, and we're watching someone try to come to terms with some terrible mistakes? Al-Jabal (aka The Mountain) was an official selection at the 2011 Toronto International Film Festival. ~ Mark Deming, Rovi
Critic Reviews for The Mountain
All Critics (3) | Top Critics (1) | Fresh (0) | Rotten (3)
From green Swiss valleys to mountain snow fields, there is some stunning scenery in this picture. That is worth seeing, as is the struggle of the two stars up the mountain. The rest of the picture and the rest of the cast are of little account.

New York Times
Top Critic

Ozus' World Movie Reviews
Apesar de algumas boas seqüências de ação, o filme não convence: mais difícil do que acreditar em Spencer Tracy e Robert Wagner como irmãos, é acreditar que Tracy fosse capaz de fazer metade do que seu personagem é obrigado a fazer no filme.

Audience Reviews for The Mountain
this is off the back of the dvd and i agree wholeheartedly: Tracy spent 20 years at MGM and this was his first film outside that studio's aegis. It was a mistake. Wagner is Tracy's younger brother (Tracy was 30 years older than Wagner when the picture was made and looked it) and a rotten kid. It was filmed in the French Alps and in the studio. The faked climbing scenes are awful, the real ones are terrific. They just do not match very well and the result of 'The Mountain' is a molehill. horrible. just horrible.
Harim Kim
I decided to stick with my genres and for some reason "mountain movies" jumped into my head! Go figure?? :rolleyes: I actually thought of five movies I feel worth viewing.... [b]The Mountain[/b] rates this high solely because of Spencer Tracy and Robert Wagner. They interact wonderfully. An interesting story and beautifully filmed - the vistas are breathtaking. [b]K2[/b] is action packed and never stops. A bit thin on story but the cinematography makes up for it and I like Michael Biehn alot. The kind of movie you can watch again and again. [b]The Eiger Sanction[/b] is a mountain movie that immediatly came to mind because it was a very different movie for Clint Eastwood. Its also very beautifully filmed but the story is a bit slow and I lose my interest at times, still worth a look if you like espionage films. [b]Cliffhanger[/b] is one of my favorite movies. The opening scene is so thrilling and awesomely filmed it just made me sit on the edge of my seat. The special effects were just terrific and of course Sly is at his ass-kicking best. The story is a bit predictable and the bad guys get it in the end but who cares? Turner was the weak link here and can barely act at times but still a really good movie. [b]Vertical Limit[/b] just blew me away when I saw it in the theater and you MUST see this movie on a big screen. I was on the edge of my seat the whole movie. The opening scene is even more thrilling than Cliffhanger!! WOW! :eek: The story was very nifty and the cinematography stunning. Chris O'Donnell is pretty good and Bill Paxton plays the evil, greedy ceo to perfection. The supporting cast were a real asset to this movie and I enjoyed watching all of them, especially Scott Glenn. This guy is terrific. Some people might say this is just a "mountain rescue" movie but for me it was exciting and thrilling and totally entertaining. [img]http://www.internetbumperstickers.com/images/s09/smoke_satan.gif[/img]
princess dork .
The Mountain Quotes
There are no approved quotes yet for this movie.
Discussion Forum
Discuss The Mountain on our Movie forum!